May 26, 2015
President Obama and Maryland Senator Cardin stepped in and took care of business (tcb) this week to protect not only the NYPD but also police officers nationwide. The President signed Blue Alert into law. Obama named our fallen NY police officers who were killed in Brooklyn in December, Officer Rafael Ramos and Officer Wenjian Liu from Dyker Heights, Brooklyn. 
Blue Alert is a safety alert similar to the Amber Alert. The Blue Alert system will send out alerts to police officers to warn of threats so they are not caught off guard. 
In 2008, Florida was the first state that used the Blue Alert system, since then 22 other states passed Blue Alert Laws.  
Why didn't New York pass this bill to protect those who are protecting us? Our legislatures failed for years!
On April 4, 2011, Marty Golden put in the bill S02730 for the Blue Alert System. The bill was never voted on. Assemblywoman Malliotakis entered bill A06662  in the Assembly and that bill never reached the floor either. In 2012, it was held for consideration in government operations 
In May 2013, Senator Golden issued bill S-2108 and received overwhelming support for it in the senate. The bill went to the Assembly (A2278-2013) and it died in the Assembly. In 2014, the NY senate passed the bill again on Jun 10, 2014. The bill is sent back to the Assembly. Golden is experienced enough to know that this is the third time the bill is going to the Assembly and something needs to be changed.  Golden could have changed the language in the bill or in my opinion, he  should have enlisted the support of influential Democratic assembly members such as such Felix Ortiz or Peter Abbate. The bill used the same wording and did not get voted on in the Assembly - it was referred to governmental operations.
Golden has been in the Senate long enough to know to get a bill passed. At the same time that the Blue Alert Bill was waiting to be passed, Golden initiated a bill which gave millions of dollars in tax breaks to rich developers using 421-A (you can read more about it here) - this bill passed with the whole Assembly voting for the bill. Yet, he didn't use Nicole Malliotakis as the Assembly sponsor.  Assemblywoman Malliotakis has been in office for many years, yet she not had any of bills that she initiated as the sponsor make it into law (although she has been named a co-sponsor of bills that have made it into law). Malliotakis has wasted a lot of time fighting against the Dream Act. She could have been pushing her support for the Blue Alert Bill and the safety of the NYPD which seems a lot more important than some undocumented students receiving an education. 
In 2015, Golden and Malliotakis  submitted the Blue Act bill again and neither the Senator or Assembly have voted on it.  Why wouldn'[t Golden have asked for support from Democrats when he knows the bill didn't pass in the Assembly for several years? This year, Senator Golden put in several bills for police and firefighters pensions this season. On this bill, Peter Abbate is the co-sponsor, not Assemblywoman Malliotakis. I've looked to see how other Republican Senators get their bills through the Democratic-dominated Assembly and they get a democrat on board. For example, Senator Lanza passed a bill and Phillip Goldfeder, a Democrat from Howard Beach was the Assembly lead on the bill (Staten Island Assemblymembers Malliotakis and Borelli are co-sponsors of the bill)
Thankfully, Maryland Senator Cardin brought the bill to the floor for a unanimous vote and President Obama signed it into law so that the NYPD can have that added protection
Golden's Twitter account tweeted this:
Nicole Malliotakis retweeted Senator Golden's message (she runs her account herself so she knows there is no reason to be proud for a failed bill).  
When I responded to Senator Golden's twitter account, the response I received was one in which Senator Golden accepts no responsibility for not handling the bill better.  In fact, Golden blames the other political party. This is a senator who has worked with Democrats to get bills he wanted to be passed, but didn't take the same care to get the Blue Alert Law passed in New York for the NYPD!  

The next time you see NY Lawmakers posing for pictures with the NYPD.  Remember these lawmakers failed to provide the NYPD with a simple service to save lives. 
Thank you to all those who sent me information about Blue Alert. 
Topics: Uncategorized | No Comments »
May 21, 2015
I recently celebrated another birthday. Strangely on the night of my birthday, I received a call from Chase Bank. I looked at the clock and could tell that the bank was closed at this time so I thought something was wrong. I picked up the phone and an associate from the Bay Ridge 3rd Avenue branch of Chase was on the phone. I asked him if everything was alright and he told me that my bank account information was incomplete. I thought right away that this was a scam call because we did both our mortgage and the refinance of our home through. When you apply for a mortgage, the bank asks you for every bit of information about you and your assets. When we applied for a refinance just a few years ago, we had to do the same thing again. Even though we were Chase customers we had to provide every document. I asked the bank associate to have a manager call me because something was wrong. The bank manager named Bilal called us and I asked him if he was looking at my bank records on the computer. He said he was. I asked him if there was anything he could tell me about my date of birth. He hesitated and said no. I asked him the question again. It was my birthday, if he was looking at my record, he would have been able to tell me that, right?
Bilal told me that Chase was going to send me a letter. I told him if Chase sent us a letter asking for any info, we would stop banking with them because they have every bit of info in our mortgage and refinance documents.
No letters came that week, but we received a letter on Thursday. I called the number on the letter and 877-382=8854 and I spoke to four associates. Most of the associates didn't know what they were talking about and I suspect the letter was a fake because it was signed by Mike Andrews. Andrews does work for Chase, but in Ohio. The letter has a Texas address on it.
I don't know if the number is Chase's or not, but I do know that Chase' customer service has continued to dwindle as the years have gone one. Remember when you could walk into a bank and the associate knew you?  Those days are over.
Topics: Uncategorized | No Comments »
May 13, 2015
Stephen returned home to his fantastic family in Brooklyn. The end.
Sorry there is no story here for you to read – that's all that happened.
Why did he go home?  Because he wanted to.He's an adult and can do whatever he wants :)
Topics: Bay Ridge | No Comments »
April 10, 2015
Teens over 14 by July 1st can apply to work in the NYC SYEP  Program. Basically, teens help out and run games at schools where there are summer programs. The application is open until May 22nd.  Where most jobs won't take 14 or 15 year olds in Brooklyn, Queens, Manhattan, Staten Island and the Bronx, SYEP does!) 
 Summer Camp Counselor  www.statenislanddaycamp.com   – must be a  Staten Island resident  available from JUNE 29 – AUG 21  

 Be a camp counselor for ages 5-14 during the hours of 8:20-4:15.- Must be at least college age, and at one year of college completed
New Bagel Store, "Staten Island Bagel Cafe" (Victory Blvd and Travis Ave)  is hiring the following positions:




o Deli department / Sandwich making Guru 




o Cashier 




o Delivery 




o Stock
Topics: Uncategorized | No Comments »
April 10, 2015
If you like deep dish pizza, this might be for you!  Most people in Brooklyn like very thin crusts, but I am going to put this here because I am sure one of my friends will be looking to learn how to make pizza in Brooklyn!
Topics: Uncategorized | No Comments »
April 4, 2015
I met Little Jimmy over 20+ years ago when I was a teenager.  Little Jimmy worked some odd jobs back then. He handed out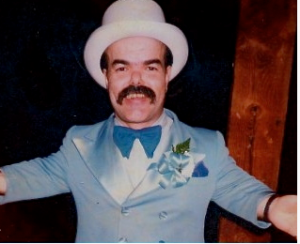 papers on 86th Street and I often stopped to talk with him because he was so engaging. Jimmy told my friends and I about his life and was quite pleasant.  Over the years, I would run into Jimmy on the train or on the streets in Manhattan or in Bay Ridge and he would remember the last time we spoke. I remember one time he told my friend and I that we could hire him to be a stripper for bachelorette parties.  I remember laughing so much after this conversation!
Little Jimmy had many jobs as an entertainer on the Coney Island Museum and Boardwalk.  Jimmy was even in the off-Broadway show called Carnival Knowledge (Lee loves Coney Island so I took him to the show in 2003). Bay Ridge often saw Jimmy dressed as elf for a jewelry store on 86th Street. I remember Jimmy telling my friend and I that he was in Charlie and Chocolate Factory – he is the cute oompa loompa.
 On Saturday, April 4th, I heard that Little Jimmy had died at Coney Island Hospital.  I was sad to hear the news, but I guess I didn't realize that Jimmy was almost 69 years old. Over the years, sometimes when I ran into Jimmy, I could tell he wasn't feeling well. He wasn't as chatty and sometimes seemed like he was in a bad mood. The last time I saw him during the winter, I thought he looked tired. RIP James Mastrangelo.
Thanks Kathryn for sending the link to this video.
Topics: Uncategorized | No Comments »
March 28, 2015
Dear Neighbor,
I don't necessarily write this letter to you because I know your type and I know that you don't listen to anyone. It's common sense to lock up your gun so your son doesn't shoot his sister. It's even the law, but the law isn't for you – it's just for the other peons in the world. 
You live less than a mile from me on 71st Street near 12th Avenue. And when your son took your gun and shot your daughter with it, I bet you were glad it was your daughter and not someone else's kid who would sue your for your stupidity. Your poor daughter suffered because your gun wasn't properly locked up. 
Before you think I am anti-gun, I'M NOT. I support my right and my neighbors right to have a gun,  but that's because we are responsible adults. 
The point of my post today isn't to insult you openly. My point was to discuss what the consequences of your failure to follow the law should be. Adults who allow children access to weapons should be arrested and serve jail time –  Yes neighbor, it's that simple. If your daughter wasn't the child that was shot and someone else's child was shot and killed, someone would be serving jail time. That someone would have been your child. But this isn't your child's fault – it's yours and you should have been arrested for improperly handling a gun in your home. 
 I do hope someone who can change laws in our state will hold you accountable before another child gets hurt or killed. 
Topics: Dykjer Heights | No Comments »
March 25, 2015
It's our anniversary today – a big anniversary too. I just wanted to take a moment and thank God for the man who makes every day better by always making me laugh.  Regular laughing and dancing are what keeps people together.
A friend asked me what I bought Lee for our anniversary. I bought him a bunch of things, but I only told her one thing. Ketchup. Yes I bought Lee a ketchup. My friend couldn't understand why and I am sure she didn't think it was very romantic, but Lee loved it…..and that's why I love him
Topics: Uncategorized | No Comments »
March 12, 2015
I ran into an old student today who blessed me with the kindest words that a teacher could hear.  
Grateful.
Topics: Uncategorized | No Comments »
March 8, 2015
I went to my basement to get a picture I stored there and it was gone.
If you took it by mistake, you would have realized it by now and returned it. 
At first I was surprised it was gone, but then I thought about and realized that's who you became. 
Topics: Uncategorized | No Comments »
March 4, 2015
The best thing about Brooklyn is it's people. When we bought our home in Bay Ridge, my new neighbors wasted no time welcoming my family here. Come came over and introduced themselves, offered phone numbers, advice and even invited use over for homemade food when they saw we painted all day. I lived in Sunset Park as a kid and always had a community of great people taking care of everyone on our block. Lee came from Park Slope and few neighbors know each other the same way there. It took him months of getting used to neighbors yelling across the street: "Hey Lee."   Some of those neighbors have -passed on over the last few years. When my car has been stuck in the snow, without hesitation, several of the men on the block jumped behind the car and pushed it out so I could get to work (Yes I do know I am lucky to have such good neighbors)
Recently,  I read a lot in the news about the Dyker Heights Civic Association and the illegally converted homes in the area. A community meeting was held about the illegal conversions.  Someone in the audience called out at a meeting:
Yes that reads: "I don't feel comfortable being here with an Asian in the room. I have to admit." shouted one attendee from the crowd.  An embarrassed silence fell on the room and Vella Marrone quickly responded "No Don't Do That!"
If you are not shocked by that – you should be. Grown adults allowed their neighbor to feel awkward because some idiot wanted to be inappropriate. There isn't anything funny about that. Mrs. Vella-Marrone didn't tell the guy to leave the meeting (Do you know any Italian woman who wouldn't have taken that moment to turn the tide and tell the guy to leave since he wasn't comfortable?)  The Italian men  in the room should have spoken up and acted like men. As my Irish father would yell when people acted inappropriate, "WHAT'S WRONG WITH YOU!"  I saw the pictures from the meeting and there were a lot of men present who could have spoken up to the bigshot of the community. but didn't.
 I checked the officers of the Dyker Heights group and there are no Asian officers. WHY NOT?  In an area that has a large Asian population, at least one of the governing members should represent that population. If the president isn't doing it, why aren't the other members speaking up and making sure their group represents their community members.   Most people who purchased homes in Dyker Heights invested in your community and will be paying a mortgage for many years (yes some are the people who are illegally converting homes, but not all are).  When things change, you need to change with it or die off like the dinosaurs.
Last year, the president of the Dyker Heights Civic Association was honored. FOR WHAT?  I see a lack of leadership here so I don't know why Bay Ridge would honor her.  ( I questioned the group giving the award and the head of that group chose to remain silent and not respond. I stopped visiting the merchants who were part of that vote as well)..   The Dyker Civic Association president went out of her way to embarrass a political opponent of her boss, MIchael Grimm. As someone so closely connected to Grimm, she should have hired a moderator for the debate so everyone could see an  impartial party.  Recchia never confirmed his attendance at the meeting and he didn't show up because he knew it wouldn't be a fair debate. The president of the civic association made a big deal about it and could not see that what she was doing was wrong. Vella Marrone made a Twitter account around that time and followed me. I wrote to her on Twitter that she apologize to Recchia and she didn't respond. 
I'm glad I didn't buy a home in Dyker Heights.
Topics: Uncategorized | No Comments »
March 3, 2015
The residents in Dyker Heights, Brooklyn have complained about the damage being done to their community due to the the homes being used in a different capacity then they were intended. The Brooklyn HPA (Housing Preservation Alliance) was formed for to educate and inform the public about the local housing issues. Recently they held a community meeting that was well attended – some Sunset Park residents attended as well because the problem exists there as we. (More about the meeting here)
Some people will question – who cares what someone does in their home? Everyone cares when it affects them! Illegal home conversions bring many problems starting with overcrowding at school and local children being turned away from their schools because of overcrowding (UPK programs), lack of parking and especially increased noise if the attached home next to you went from being occupied by four people to 15 or 20 residents.  There is also a question about safety if supporting beams from been removed from an adjacent home and even fire hazards. The Bensonhurst Bean pointed out a fire at an illegally converted home killed five people because it took three times as long for a fire to be put out be they as the firemen had to break down more walls.
Senator Golden wrote a bill at the beginning of February to fine home owners who illegally convert homes.  Some Dyker Heights residents think Senator Golden is helping them, but it's obvious that he's just appeasing these residents with a  cheap bill.  Golden's bill will only fine those who are illegally converting their homes $1000 – YES JUST A THOUSAND DOLLARS.   That's nothing to the home owner who is collected $24000 – $50000+ a year in rent.   Golden also wrote that the penalty could be up to thirty days in jail.,  Jails are already crowded and few people who commit crimes like this actually go to jail.  Most people wouldn't want these people in jail because that's more of our tax money being wasted.    
Here's what legislation with real  fines in NYC cost:
The fine for illegal conversations should rest on the home owner and should fit the crime – the cost of a seat in one of our local schools.  A thousand dollars is a spit in a buck.  A home owner who illegally converts and rents his home with little regard for his/her neighbors should be fined appropriately. While the home owner rakes in the money, schools in the area are being overcrowded.  The homeowner should be charged enough to deter other home owners in the area from doing the same.
Local newspaper posted the story about Golden's silly bill and several places shared it without comment including the Brooklyn HPA.  How does anyone share that and not write  SENATOR GOLDEN STOP SELLING OUT BROOKLYN! IMPOSE A REALISTIC FINE ON THESE PEOPLE WHO ARE TAKING ADVANTAGE OF the NEIGHBORHOOD.  Dyker Heights should be calling for Golden to change the law fairly or step down and let someone who cares about the area create legislation.
Not only does a realistic fine need to be imposed, but residents need to know which homes have been reported so a registry is needed. Currently, someone  looking for a home in the area is able to use the city records to look up the homes surrounding the home they are looking up. People can't be paying $700,000 and up for a home in the area and find out that their neighbors have converted their homes to make more money and were only fined $1000.  If you are a resident in the area, you should be able to know which homes have been reported and which still need to be reported. Registries like this are used all the time – if someone doesn't pay their water bill/taxes their names have appeared in the paper (You can see who hasn't paid here)
I know people think that they are being helpful creating an online petition because they saw Senator Golden and Assemblywoman Malliotakis' petition for the bridge, but that petition and the Verrazano Bridge toll failed last Spring (yes they even continued to push it the petition this year so it looks like they are doing something), Petitions don't do anything except give people the feeling that they are doing something. Senator Golden didn't need a petition to write the bill to give millions of dollars of tax breaks to wealthy developers in Manhattan (see what it sells for sold for $$) – he just did it!  Golden obviously doesn't care that 1700 people in his community signed it or he would have made a bill with harsh penalties for those profiting from your community.  Maybe Golden thinks he represents Manhattan because why would a Brooklyn senator write a bill for a building in Manhattan?
If I was a Dyker Heights resident who wanted to get change here, I would contact Leticia James or better yet, I would get an attorney to start a class action suit and sue the owners of the homes who are destroying your neighborhood.  
Check out Senator Golden's current legislation – this one about waiving provisions is interesting and so is the fact that he has several bills for the police department and office of corrections  - you will also notice there isn't much there for Dyker Heights or Bay Ridge

Topics: Uncategorized | No Comments »
« Previous Entries
<<|>>