August 25, 2016
Topics: Uncategorized | No Comments »
August 20, 2016
Battle of the Bands in Bay Ridge – August 26th 11 am – 3pm – Shore Road Promenade
Topics: Bay Ridge, Brooklyn | No Comments »
August 20, 2016
The Bay Ridge Taste of Fifth Avenue will take place on August 26th from 6pm – 10pm from 73rd Street to 84th Street and 5th Avenue.
The Avenue is closed to cars so you can stroll around and enjoy yourselves. Event run by the Bay Ridge 5th Avenue Bid.
Topics: Bay Ridge, Brooklyn | No Comments »
August 19, 2016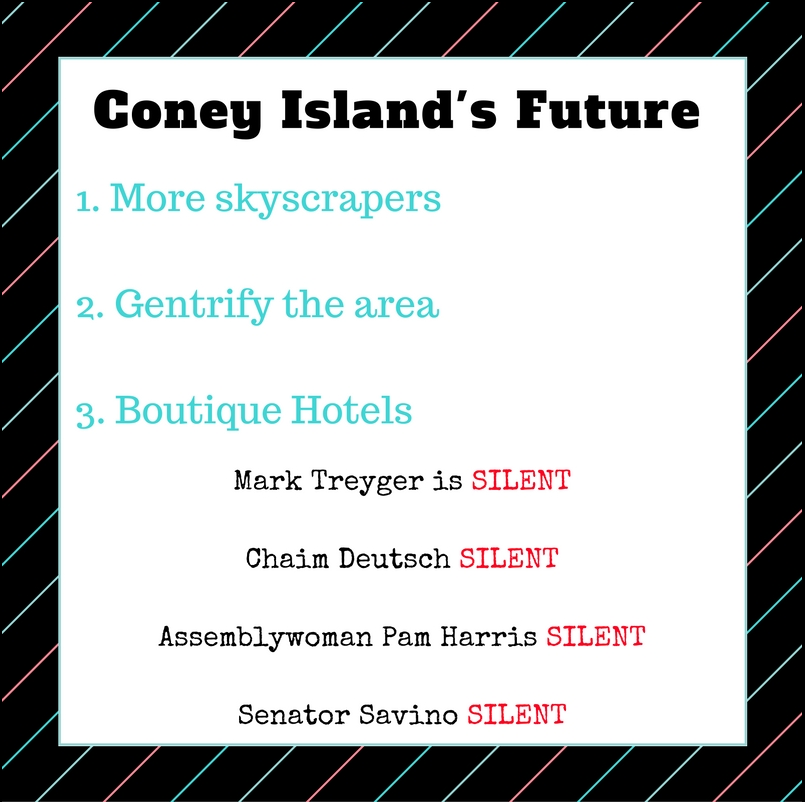 If you visited Macys's in Downtown Brooklyn in 2005 and you visited now, you would see the area is quite different. It's called gentrification. Back then when people told me that the area would be gentrified, I thought they were out of their minds. What did I know? Visit it now and you will see that the area is filled with white developers and their Hasidic investors smiling up at their new skyscrapers. After they sell the building, they are gone. They  are just there to make their money from the area. How did those people know what would happen? Because they saw it before in another area. 
While Mark Treyger allows developers to take over in Coney Island, Pam Harris smiles in his pictures. Smile away Pam as Coney Island becomes gentrified – it will take a good 10 years just like Downtown Brooklyn did, but it will happen.
Pam Harris is just a pawn to the plan. They knew she would be silent because she was a correction officer and driver. Harris doesn't know it yet. She is too busy doing her own thing or she would have spoken up. Coney Island is screwed!    
I saw it happen it happen in Downtown Brooklyn. The same will happen to Coney Island – skyscrapers, gentrification and boutique hotels.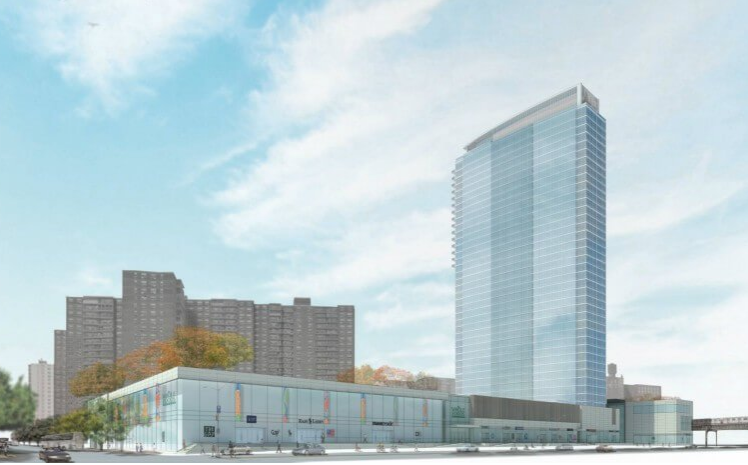 Topics: Bay Ridge, Brooklyn, Politics | No Comments »
August 19, 2016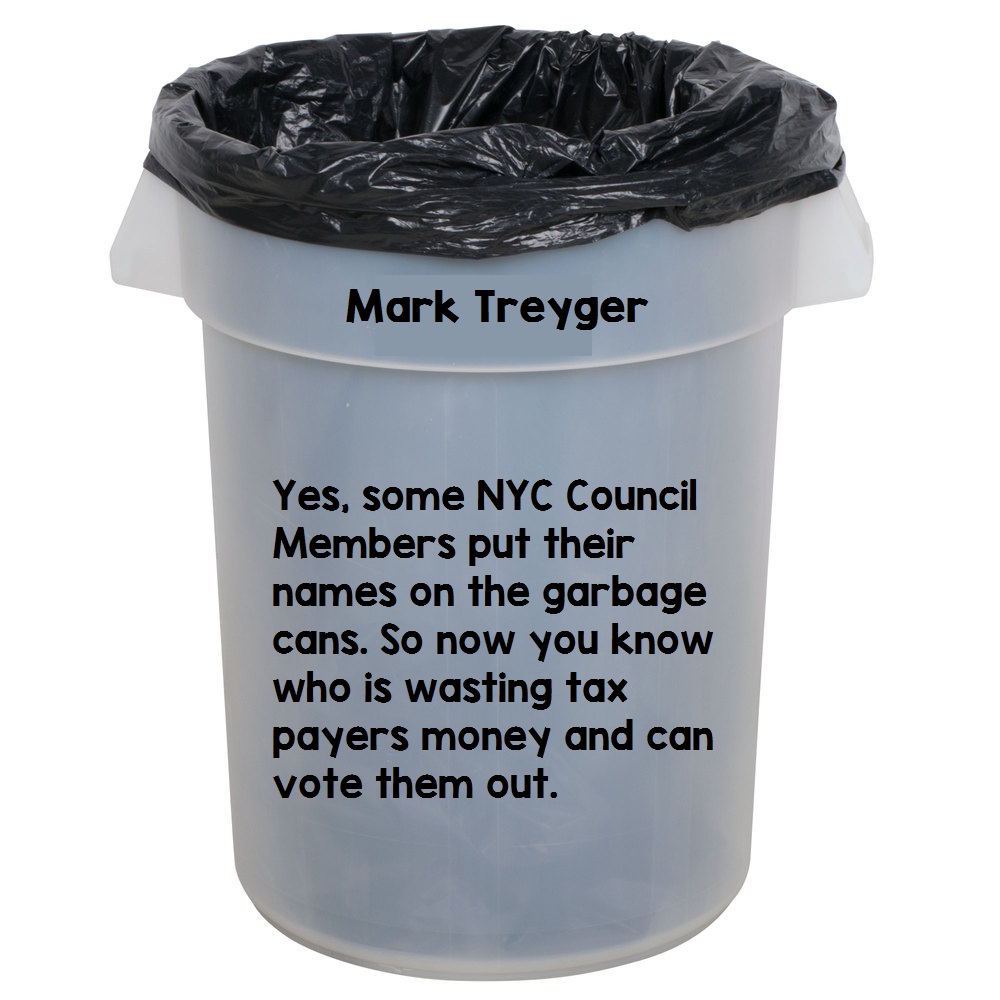 You, NYC Taxpayer made Mark Treyger's dream of having his name on a garbage can come true!
Treyger spent $18,000 on 36 garbage cans with his name on them.
No I'm not kidding. Read about it here.
Treyger and seven other crooks bought these cans – former speaker Christine Quinn put a stop to this, but the current Speaker doesn't care!
Topics: Bay Ridge, Brooklyn, Politics | No Comments »
August 18, 2016
Yesterday, NYC Council posted pictures of Melissa Mark Vivierto's visit to Brooklyn and the Bensonhurst Bean reported about it here.
It's apparent that Melissa Mark Vivierto is immune to her surroundings. How did she walk through this and think that it is okay?  Clearly there is a problem here and standing there taking pictures isn't going to solve it.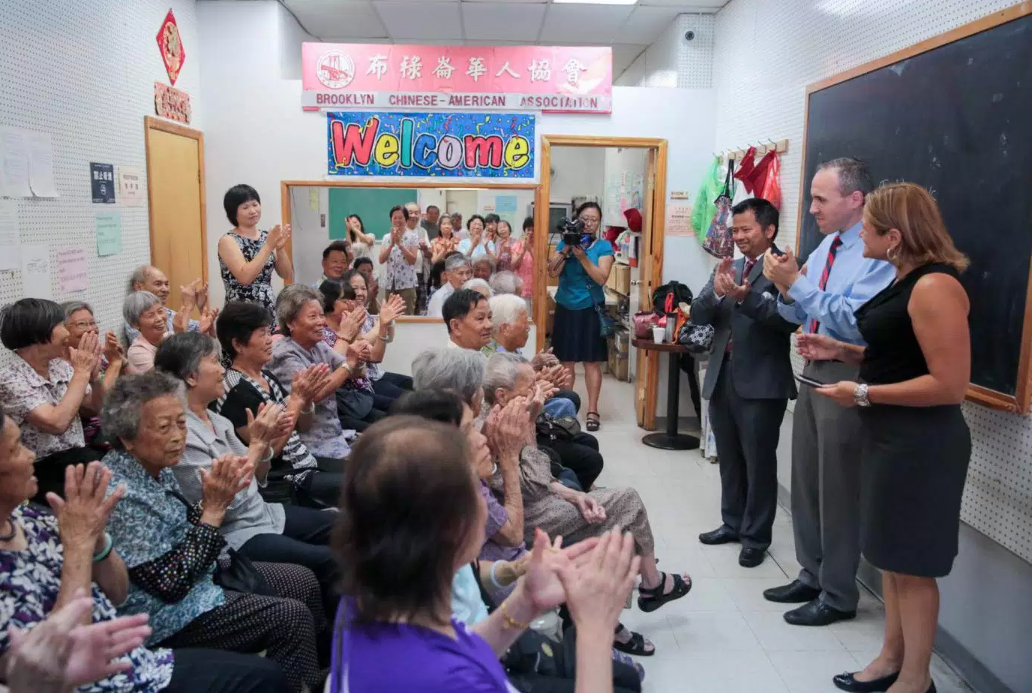 Bill deBlasio's "A tale of two cities" saying couldn't be more apparent than what is seen in these pictures.
The Asian senior citizens are so crammed in to what appears to be a store front shop. It's obvious their population outgrew that location. No officials stepped in to help them get a larger place.  It has to be a fire hazard to have that many people in a tiny room. More pictures here.  
Here's Melissa Mark Vivierto on the same day touring the pool on top of the spacious and huge. FIAO (Federation of Italian Americans). Nice huh?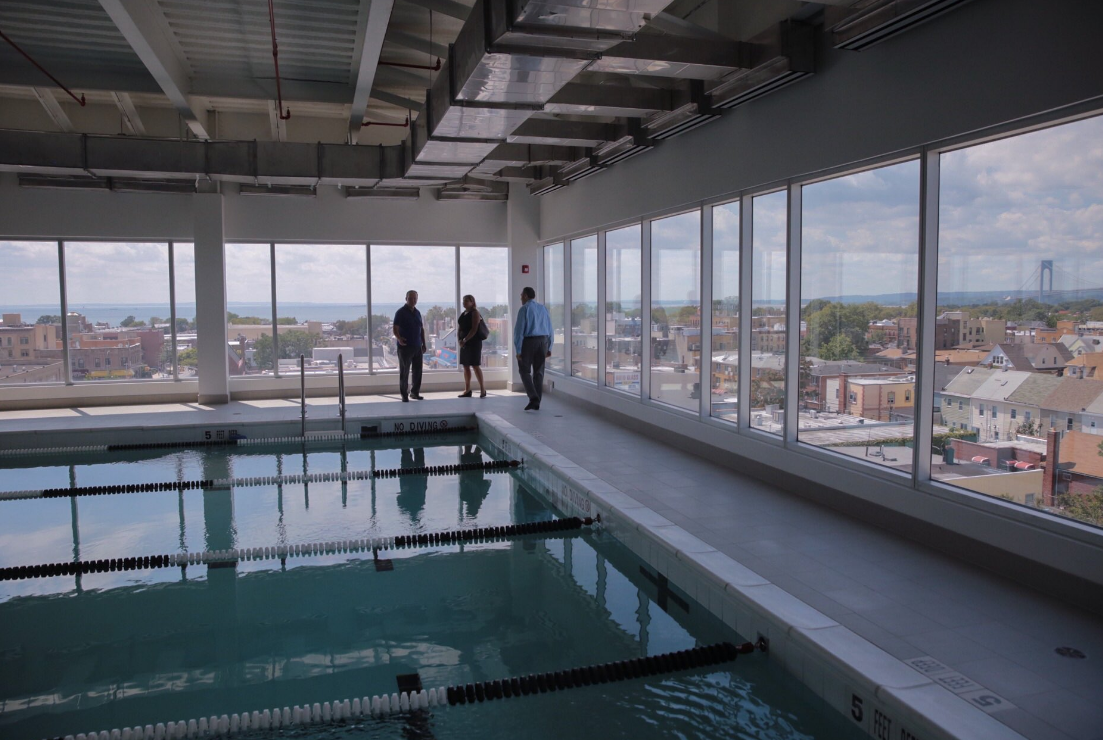 Why does this problem exist?
Are these groups receiving the same amount of money? I would look it up myself, but there are so many hidden ways that groups are given funding – it's not as transparent as they claim.
If these groups are receiving the same amount of money, maybe it's not being managed correctly. I have seen this happen in another situation this Summer that both Mark Treyger and Melissa MarkVivierto failed to provide any documentation.
If you look at the comments to the Bensonhurst Bean story,  one of the most telling signs that this neighborhood is having problems that go unchecked is that a resident wrote this comment:
Topics: Brooklyn | No Comments »
August 13, 2016
RIP Daniel Fitzpatrick.  His story his here.    Sign the petition for  Danny's Law

August 27th is Daniel's 14th birthday. Light a candle or release a blue balloon and send a picture to his sister. Blue was Danny's favorite color.  #PaintTheWorldBlueForDaniel   
This family is without their son. No parent should have to bury their child.  :(
The wake will be held on: Monday and Tuesday 2-4 7-9, at Harmon Funeral on Forrest Ave and Davis Avenue in Staten Island.
Mass will be on Wednesday 11 at Sacred Heart R.C. on Castleton Ave and North Burger Avenue Staten Island.
GoFundMe page for the family.
Many prayers for Daniel's family. RIP Daniel – I'm sorry no one heard you in the way you needed to be heard.
Topics: Uncategorized | No Comments »
August 10, 2016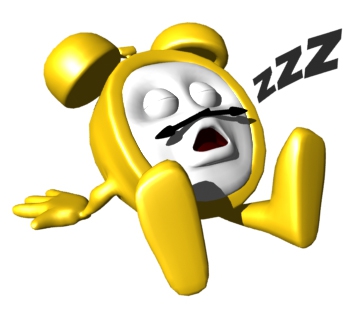 Just read Kings County Politics and the blog implied that Pam Harris was knocked off the ballot. Harris wasn't knocked off, her own laziness led to her not being on the ballot for these parties.
In order to be on the ballot to represent the Independents,  you need 89 signatures. Pam Harris had only 63.  SIXTY-THREE?!!  She couldn't run around her district and find 89 people that would sign his/her name on her paper?  That's just shows she is unmotivated.
For the Working Families Line, Harris needed only 10 signatures and she gave in just 10. JUST TEN?!  Three of those signatures were not valid. Why would a representative give in the bare minimum? YUP -> UNMOTIVATED.
Harris isn't a new comer to the election process so she shouldn't have any problems submitting signatures. She could have stood at the entrance of a subway station and asked for more signatures, but she didn't.
I know if I was doing ANYTHING that required something, Lee would run out and get it for me. Where are all the people around Pam who want her to be an assemblywoman? Didn't any of them want to run out and get signatures for her? THAT IS A SIGN that the people close to her don't support Pam's election either. Notice that Mark Treyger didn't run out and get Pamela any signatures either. What does that tell us?!
Harris failed to respond to me when I asked for her help. Kings County blog has this quote:
Harris has only shown she isn't interested in being the Assemblywoman. When she loses the election, she will only have herself and her lack of motivation to blame.
Topics: Bay Ridge, Brooklyn, Politics | No Comments »
August 9, 2016
There it is.   6705 – 7th Avenue – the illegally converted 2 family home to five family (even the garage had people living in it)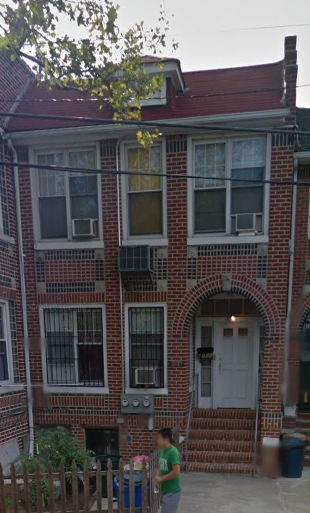 People cheered throughout the Dyker Heights, Bay Ridge area.  I'm sure the Brooklyn Housing Preservation Alliance cheered because they have been fighting against home conversions for a long time and they were glad to see the owner of a conversion finally got caught.  
Although I support the BHPA, I can't cheer with you. Because these are families with kids and kids can't be the losers to a greedy landlord. 
Whose really paying for this? 
There were 18 adults and 13 children living at 6705 7th Avenue and they are the victims of this whole situation. They were taken to a motel by the Red Cross. Then after 3 days, NYC had to provide housing for the 18 adults and 13 children. The city isn't going to find them homes in Bay Ridge, and probably not in the same school district.  Also, although I believe these people must be assisted, I believe the owner of the home should reimburse the city for this expense – not our tax dollars. Ughhh don't get me started on my outrageous taxes…..
The reality of  illegal home conversions in NYC is that renters don't know that owners have done an illegal home conversion. The law should be that the homeowner of the illegal conversion needs to pay relocation costs for the families in the same school district.  Moving expenses, rent and security should be given to the family by the home owner who tried to skirt the law. Innocent families shouldn't be inconvenienced.  I am sure that the renters could sue the home owner in small claims court, but that's not an easy task to do. Add to that situation that many of these renters are non-English speakers and recent immigrants to this country makes this situation more difficult as well. A flyer needs to be given to Asian American Associations so that renters can be informed about illegally converted homes because no one wants to be escorted out of a house.
No one wants families to be inconvenienced because home owners were trying to scam and make more money.  We know that since the home was purchased in 2010, the owner did the converting as he held a mortgage on the home and  banks won't allow people to get a mortgage on home inwhich the inspection doesn't match the title (we purchased in 2009 and the rules were pretty strict on this).  
I applaud Councilman Gentile's bill which will fine the owner $15,000 for  each unit beyond the certificate of occupancy. If the owner fails to pay then the home will result in a lien sale.
How come NYC hasn't required a renting permit yet? The city nickels and dimes us for everything, but a renting permit will actually make the owner sign an agreement with the city to set the rental occupancy limit to a set number of people or by bedroom.  Also it can set the law with the owner  that enforcement officers have to be authorized to make inspections "in an emergency" without the consent of the owner, tenant or lessee.  Landlords who have to sign an agreement will watch their tenants more closely because they don't want to get fined.
For more information about the Brooklyn Housing Preservation click here.
Topics: Uncategorized | No Comments »
August 9, 2016
Pre-Registration required – click here
Free Rabies Vaccination Event for Dogs and Cats:
MCU Park
1904 Surf Avenue
Coney Island
Brooklyn, NY  11224
Date: Sunday, August 14, 2016
Time:   2:00 PM to 5:00 PMA
Topics: Brooklyn | No Comments »
August 9, 2016
Herb is wishing you a Happy International Cat Day.
Topics: Uncategorized | No Comments »
August 9, 2016
The Summer Stroll will take place from 80th to 90th Street. Go stroll and enjoy Third Avenue from 6pm – 10pm! The streets are closed to cars so you can enjoy it.
Topics: Bay Ridge, Brooklyn | No Comments »
« Previous Entries
<<|>>