July 28, 2016
Interesting question…..the answer is simple – I can't support Trump.
Trump hates immigrants.  My grandfathers were immigrants. These men chose America for my family and I understand that it's my job to keep America the same way for other men who want to be like my grandfathers. You can choose to say, "Well these people are different."  I assure you, my grandfathers had the same belief as these men – "America will be better." 
Didn't you guys hear the Pope? His message was clear, "take care of immigrants."

Trump didn't make his own money. He took his family's money and built from that.
Trump didn't pay his bills and didn't pay people who did work on his buildings.
Voting for a reality television star doesn't appeal to me.
And you don't hear me saying vibrantly, "I'm with her either."
I wish I could say that, "I'm with her" but I don't feel that either.  I am watching and listening.
I've voted for unpopular candidates before. I am aware the winning candidate doesn't always understand the message, but after an election everyone looks to see how many people voted against the winner.
By November, a choice will be clear.
Topics: Uncategorized | No Comments »
July 26, 2016
Summer isn't Summer in Brooklyn without a sinkhole – one that forms small and starts growing! This July it's on 79th and 3rd Avenue. Pics and Story
This same street had another sinkhole last week!
Water is flowing down the block!
Topics: Bay Ridge | 1 Comment »
July 26, 2016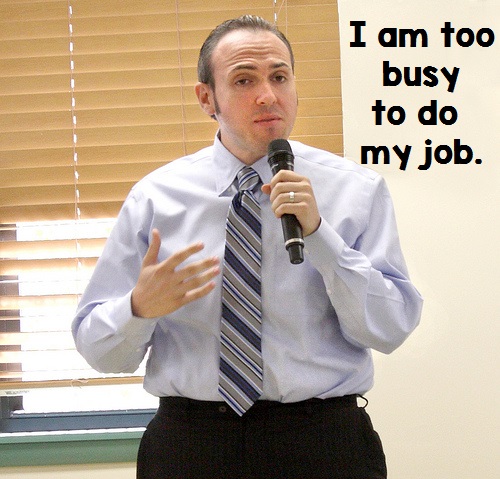 Although we live in Bay Ridge, my family has a business at the end of Gravesend in Councilman Mark Treyger's  area. In June, I drove up to the shop and noticed that the street sign had been hit pretty bad by a tall truck (someone must have used the driveway to backup and went to far).  A tall kid could grab on to it and swing from it.
We reported it to 311 online.
About 10 days after, the DOT responded that they fixed the sign and sent us an e-mail. 
In mid-July, I stopped by the shop and the sign was still really bent – less than before, but still bent (if straight up is 90 degrees, it was bent by the truck to like 140 degrees – the city repaired it to a 115 degree angle). Basically someone from the city came and pushed the sign up a bit, but it was still bent.  I went back to 311 online and re-reported it.
I shouldn't have to do that.  Mark Treyger has a staff of people who should be monitoring the area and checking that 311 calls have been handled. 
Yesterday we received this:
311 Sends their records to City Council so Mark Treyger should have rode around his district or had someone on his staff do so,  instead of filing stupid complaints and  seeking another position out of his area, maybe people will be satisfied with the job he was doing.  From 311's site: 
There's no point in Treyger being a Councilman if he isn't going to take care of the area. Last month, Treyger gave a press release to newspapers that signs in his area were old instead of reporting them to 311 to be replaced. Get out of the office and do your job Mark Treyger.
Topics: Bay Ridge, Brooklyn, Politics | No Comments »
July 22, 2016
A new t-shirt for hot air blowing Councilman Treyger!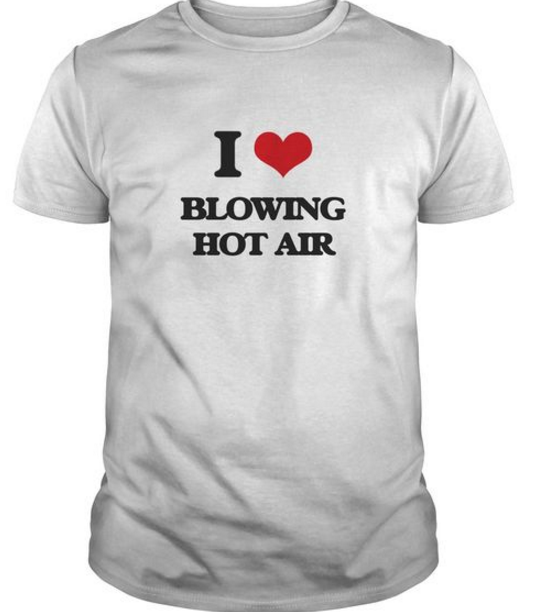 Mark Treyger gave a press release out stating that he wrote a letter asking Comptroller Scott Stringer to cover the cost of air conditioning in NYC schools. Yes, a website actually wrote about Treyger sending an e-mail to Stringer because this is how low politics has gone.
NYC Council released their spending for 2016-2017.  Treyger could have given money to schools in Coney Island for air conditioners, but he didn't. Instead Treyger  gave more money to the not-for-profit in Assemblywoman Pam Harris' home.  Treyger has been a Councilman since 2013 and students in his district have had to sit through testing for years without Treyger stepping up and offering air conditioning.

While I wish this was a real move on a politician's part, calling for air conditioners when it is nearly Fall is just a "playing politics."  Although it is hot now at the end of August, in September air conditioning is used in the first and second weeks of school only. Fall weather hits NYC quickly and air conditioning isn't needed much in September.
If Treyger spoke up about air conditioning in March or April, we would know he was authentic. 
Treyger must have already discussed this with Stringer. I predict cronyism will be strong at play  when Stringer comes out and announces Airconditioning for Testing Classrooms. Hint to the Politicians: Clear things about school with Carmen Farina because most schools in NYC are air conditioned now. The ones that aren't have weaker PTAs or cheap politicians (NOT) working for them. 
Topics: Brooklyn, Politics | No Comments »
July 21, 2016
 After contacting NYC Council and Melissa Mark Vivierto, I made them a new banner. It was either that or "I contacted NYC Council and  I wished I  poked myself in the eye instead."

The NY Post wrote this article about a not-for-profit that is being run out of Assemblywoman Pamela Harris' home.  Money is easy to explain because there has to be receipts so I was waiting to hear from Assemblywoman Pam Harris.

A week after the article came out,  Harris and Treyger held a quiet meeting for some members of the media (it wasn't shared on social media). I figured they waited so long because Harris had to get her accounting information together. At the press conference, Harris stated the not-for-profit is still at her home, but she is not collecting rent money. Harris said that her neighbor rents space to the Coney Island Generational Gap. 
Then Harris threw up a smoke screen. And we all know where there is smoke – there's fire.

While Harris was supposed to justify the spending of the not-for-profit, she appealed to people's emotions and stated that her kids were questioning why their group was in the news. There was no reason to share that as Harris and Treyger could have easily explained to the kids that they messed up.
When a mistake happens like this in government, all elected representatives should be presenting their paperwork without constituents asking for it. 
Councilman Mark Treyger should have stepped in and corrected the mistake by providing a detailed list of funding and cancelled checks on who received the money for rent and from the not-for-profit in Harris' home. Treyger could have shown Harris' neighbor received the money for rent/maintenance. BUT HE DIDN'T and he responded like a typical pol.  Councilman Treyger  accepted no responsibility for not handling his job properly and threw the blame away from himself:

Treyger is paid $145,000 to handle the money and now he wants other people to do the job.  If he can't account for less than $100,000 what is he doing in office?

Further, Mark Treyger was  a teacher so he knows there are plenty of groups who could have used that money and when he saw that Harris' successor was unable to take the reigns, he should have given the money to another group who could work with these teens.

If you look at the Coney Island Generation Gap's  activities online, it's clear it was running events and being productive over the years through 2014. When the city's funding drastically increased,  it seems the group's focus changed as well. In the Spring of 2015, Harris took 15 children and four adults on an eight day cruise to Jamaica, the Cayman Island and Mexico. As an educator, I think taking a group of teens who have never been out of NYC on an educational trip to Washington might have been beneficial. Providing the teens a cruise ticket sounds excessive to me. The group raised $6,500 through fundraising, but where did the rest of the money come from? (2015 tax return is not up yet).
 In 2016, the Coney Island Generation Gap received this money from the city and  money from Treyger is listed here as well 
The 2017 budget has already been posted and Treyger has set aside $48,500 to the Coney Island Generation Gap again even though the address on the record was not changed (see below).  Why is NYC Council allowing Mark Treyger  to continue to fund a not-for-profit in the Assemblywoman's home? 

Most of the time we are all too busy to check into these things even though we know something isn't right. And the people who are running NYC know that we are busy so they are hoping that we will ask and then just forget about it. 
Attempts at Trying to Get Information from NYC Council:

1. July 18th – I called the NYC Council and they transferred me to the NYC Finance Department. I left a detailed message for the admin and she didn't call back.
2. Next I contacted NYC Council and Melissa Mark Vivierto on Twitter. Although my request was clear, the city council account responded with a link to buy time. I explained my request again. BTW,  Melissa Mark Vivierto and NYC Council should have had this report ready to go as The NY Post covered this story on July 9th. The NYC Council Twitter site is busy retweeting Melissa Mark Vivierto and posting nonsense like this.
3. July 20th – I called back the City Council office and asked to speak to the head of the Finance Department. I got the admin and left my number.  Strangely, the admin called me back and said her boss is looking into it.  I asked if they had a report or receipts – she said no.  I asked when would I hear back and the admin repeated that her boss is looking in to it. Now usually when you call and ask for help, they will say we will call you back tomorrow or by the end of the week. No not this office, they just play shoefly with people.  
Why can't the head of the Finance Department just pull the records? Either they don't have any or they don't want me to have them.  It's sad there are many employees working in this finance department and they can't produce records.

Today,  July 21st – I filled out a FOIL request. I didn't even know this existed. I don't think I will hear back as Scott Stringer is good friends with Mark Treyger.  Melissa Mark Vivierto should be embarrassed of  office she is heading. If a person asks NYC Council for documents, they should be willing to provide them.

The truth is out there – but NYC Council isn't going to share it because SOMETHING JUST ISN'T RIGHT HERE.
Topics: Bay Ridge, Brooklyn, Politics | 1 Comment »
July 20, 2016
The Summer Stroll will take place from 80th Street to 90th Street. Go stroll and enjoy Third Avenue from 6pm – 10pm! The streets are closed to cars so you can enjoy it.

Topics: Bay Ridge, Brooklyn | No Comments »
July 18, 2016
The below letter is in the Courier Life's Brooklyn Daily Letters to the Editor on July 17th.  It's clearly about Councilman Mark Treyger even though the author is being polite. I am glad that other people are noticing a problem with Treyger's leadership and #PlayingPolitcs in Coney Island.
I am copying Michael Owen's letter here just in case some people  missed it.
Grandma's wisdom
To the editor,
I was raised by my grandmother. One of the earliest lessons she taught me was that you can catch more flies with honey than with vinegar. If only some of these southwestern Brooklyn pols had been taught the same lesson!
Because I don't want to risk diluting the point I am trying to make, I will leave anonymous the names of the current office holders I am condemning. If only because I don't want people to think I am only writing because I have an ax to grind with someone. To make my point, however, I must mention a former pol no longer in office: Domenic M. Recchia, Jr.
Recchia represented Coney Island with dignity in the City Council, first as chairman of the cultural affairs committee and later as chairman of the powerful council finance committee, back when Mike Bloomberg was mayor and Chris Quinn was the council speaker.
Did Recchia agree with Mayor Bloomberg and Speaker Quinn on every single issue? Most certainly not, but he was a smart politician and he knew it was more important to put the interests and welfare of his taxpaying constituents before his own self-interest and self-righteousness. It meant he had to hold his nose here and there, but it also meant he was able to build a great working relationship with the mayor and speaker.
Thanks to that strategic relationship, Coney Island prospered for many years. In fact, many of the large projects coming to bloom now are thanks to Recchia and his partnerships with Mayor Bloomberg and others.
Topics: Bay Ridge, Brooklyn, Politics | No Comments »
July 18, 2016
If you post about politics in Bay Ridge and your writing is not accurate, I will ask you to update it.  If you want people in Brooklyn to respect your writing, then you will probably correct it.  
Last week The NY Post revealed that Assemblywoman Pam Harris maintains a strange connection to the not-for-profit, The Coney Island Generation Gap.  King Country Politics posted an op-ed about Pam Harris where KCP defended Harris.  No one is questioning Harris' work with the not-for-profit. We wouldn't have voted for her if that was the question.  We don't need a smoke screen by Harris complaining that the kids are questioning why their group is mentioned in the news. (Politicians should have explained that they messed up).   The question now is:  Why haven't cancelled checks been shown yet?  This is easy to prove and someone who has been around as long as KCP should have mentioned that already.  
In September 2015, Kings County Politics  wrote that Harris opened an office in Bay Ridge.  It's obvious that Kings Country Politics didn't do their homework and just printed a press release  from Harris. In April, we went to office when we needed help and the store front was still an old store for Middle Eastern clothing.  When I discovered there was no office, I posted pictures online (zoom in and you will see the pics on the door still).    I contacted Kings Country Politics both privately and then publicly.  On May 16th, Harris was in the papers (see here) for opening an office in Bay Ridge. Kings County Politics has yet to retract the mistake and yesterday KCP tweeted this to me:
The mistake still remains even though KCP wrote this:
Stephen Witt blocked me and then asked my name.  Stephen, learn about social media….once you block someone they can't see what you wrote unless they log out and look at your feed. I didn't have the time to do that until I woke at 3:00 am this morning.
Hate? This guy must get a lot of hate mail as why would someone asking him to report things honestly make him think they hate him. 
Witt should be looking at the paperwork for Harris' office. If the Bay Ridge office was open, why would Harris have no staff working in the Bay Ridge office? This is May 18th's payroll list:

Ironically, King County Politics posted the wrong twitter account for Pam Harris. KCP doesn't know Pam Harris hasn't used that Twitter account since March. In July, Harris' staff started tweeting under this account.  I guess KCP doesn't expect much from Harris so they didn't notice there was no tweets for several months.

Disclaimer:  Steven Witt isn't a fan of mine.  I have been writing online under the name Queen of the Click for more than 10 years. While Steven Witt was a big fan of Bruce Ratner's, I was not.  My family's property was threatened by eminent domain and we  strongly supported the home owners whose homes were threatened in the Atlantic Yards.  I always commented on Witt's articles because he left people in Downtown hopeless.  In 2013, the Daily News reported  that Bruce Ratner's sister published Steven Witt's book.  This didn't surprise us at all as in 2006, a paper reported that Witt hugged Ratner.    
Topics: Bay Ridge, Brooklyn, Politics | 2 Comments »
July 14, 2016
Yesterday, Councilman Vincent Gentile endorsed Chris McCreight for District Leader. Did you hear the cheering in Bay Ridge?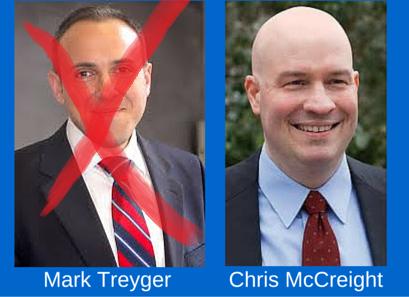 I didn't think Councilman Gentile would endorse McCreight because Gentile works on City Council with  Mark Treyger. That says A LOT.   Vinnie lives here with us and he knows McCreight is the right one for the positon. McCreight has been speaking out against corruption for years and I wish he would run for a higher office.
I didn't know what a district leader was until it was announced that Mark Treyger planned to move AGAIN to become the District Leader of Bay Ridge.  Treyger  moved in 2013 from Bath Beach to his current home, so he could run for the Gravesend/Coney Island City Council position.  Even if you aren't a democrat, you should be concerned with who the district leader is in your area. Why? Because the district leader helps chose people who will run in the upcoming elections in your area. (Cool job, but there is no salary for this position). 
Treyger is the type of politician we don't need in Bay Ridge! This Winter, Mark Treyger allowed a property owner in Coney Island to be intimidated by the city and he blamed past politicians for allowing the plan.  Treyger could stood up to the City, but he didn't because he is a weak man. Mark Treyger accepts no responsibility for anything that is happening in Coney Island, unless it is a picture-taking moment.
This weekend Treyger and Pam Harris brought a case of a water to the sanitation department and took a picture of themselves to post on social media!  Playing Politics – SMH.  
When the news came out that Vinnie Gentile endorsed Chris McCreight, Treyger trashed Gentile to an online publication.  Wait…..Treyger wants to represent Bay Ridge and he just trashed a top Democrat?! Recently,  Treyger posted pictures with Gentile on social media to make us think that he was with Gentile/BayRidge – Treyger is such a phony!
Congratulations Chris McCreight!  A nod from the top democrat in the area says you are the one!
Topics: Bay Ridge, Brooklyn, Politics | No Comments »
July 14, 2016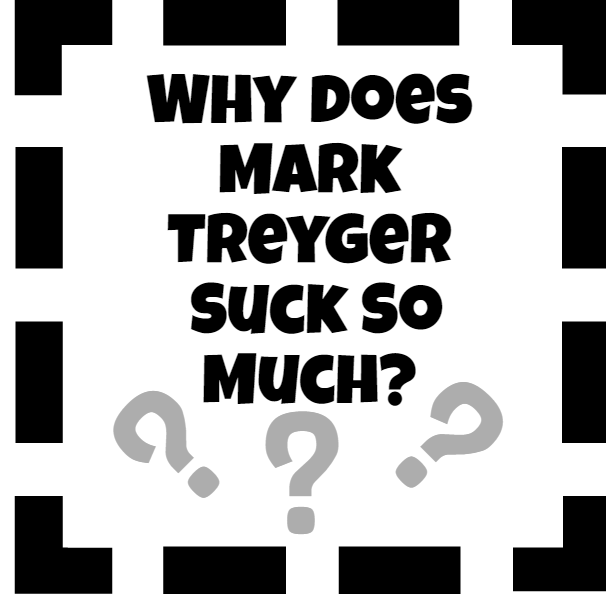 Councilman Mark Treyger has forgotten why he became a representative. He used to point out shady politicians. Today he posted the self-promoting picture below on Facebook.  Is this what he thinks people want?
I am so tired of politicians taking pictures while they throw bread crumbs to the community. Melissa Mark Vivierto needs to train City Council members better.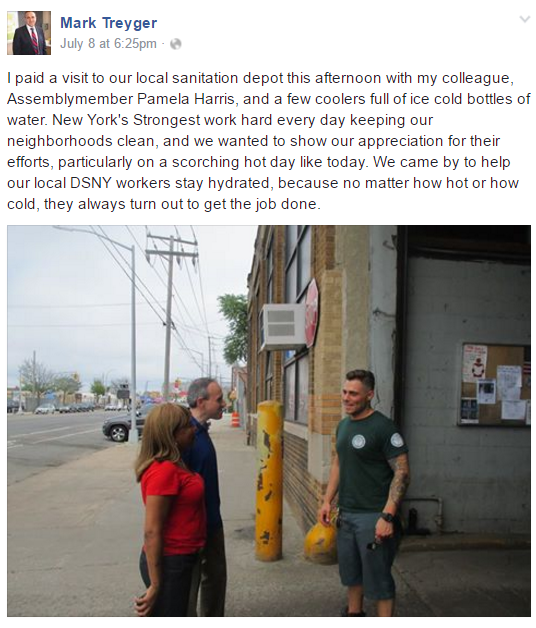 The sanitation worker's face below is saying,  "C'mon guys we can afford our own $5.00 case of water, do you have to come here and take a picture?"
It's sad that Pam Harris thinks this is what she was elected to do.
Harris' appeared in the NY Post this weekend because the not-for-profit she used to head used her address on their 2016 taxes and some other items which are strange. 
Topics: Bay Ridge, Brooklyn, Politics | 1 Comment »
July 13, 2016
The Summer Stroll will take place from Bay Ridge Avenue to 80th Street. Go stroll and enjoy Third Avenue from 6pm – 10pm! The streets are closed to cars so you can enjoy it.
Topics: Bay Ridge, Brooklyn | No Comments »
July 12, 2016
Topics: Brooklyn | No Comments »
« Previous Entries
<<|>>