January 20, 2017
This morning before 10 AM, a 47 year old man jumped from the top of his apartment building on 80th Street off Third Avenue  (it looks like 269 – 80th Street from the photo). The article states he suffered from depression.
RIP tortured soul.
Topics: Bay Ridge, Brooklyn | No Comments »
January 20, 2017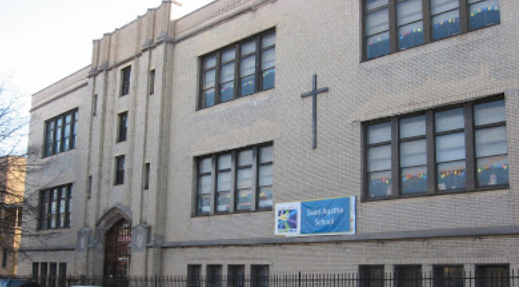 On January 9th, Saint Agatha's School announced that it was closing its doors for good on June 30, 2017.  St. Agatha's is on 48th Street and 7th Avenue.
St. Agatha is a small school that always seemed to be forgotten about. Actually, I am surprised it is open this long.  An online petition written by a parent seems to suggest that the school needs a lot of repair, but that there is also a surplus of money too. People seem to think that the Catholic Diocese is closing the school so they can rent out the building and make more money. (PS 516 is formerly Saint Michael's School – 42nd Street and 4th Avenue)

It looks like this school is about to bite the dust like other Catholic schools in Brooklyn. 
The parents started a Go Fund me Page here and a  petition to keep Saint Agatha's open.
Topics: Brooklyn | No Comments »
January 20, 2017
Topics: Uncategorized | No Comments »
January 20, 2017
Councilman Mark Treyger pumped a press release out and Kings County Politics printed it. While Treyger's section of Brooklyn is FILTHY and people who live there complain about it, Treyger's press release tells otherwise.
Press releases are the lazy politicians way to do nothing and pretend that things got done.
Topics: Brooklyn, Politics | No Comments »
January 18, 2017
On Monday at 10:15 am, a Bay Ridge man was carjacked.  Story here
A local newspaper reported that the man was a business owner who was targeted.  Very sad that someone was attacked for their car.
But interesting that they had $25,000 in the car (second story says it's $20,000). Yes, it was in the car because else the story would say they stole the car owner's wallet. 
The car was found, but of course the money was gone.

I'm lucky I have $1.50 in my car at any time, but apparently some people have $25,000.

Topics: Bay Ridge | No Comments »
January 17, 2017
Small towns have events like this.  :)
Bay Ridge Cares is kicking off the new year with a free Community Pancake Breakfast!


Breakfast will be prepared by Tom's Restaurant and is FREE, but a suggested donation of $5.00 per person (at the door) would be appreciated. Menu includes pancakes, eggs, bacon (both turkey and pork), coffee, juice and conversation!
You must make a reservation in advance (here)- no walk-ins. Seating is limited to 225 people, so please reserve early. Unfortunately, the location is not wheelchair accessible. You can reserve online or you can call (718)989-9566. 
Topics: Bay Ridge, Brooklyn | No Comments »
January 16, 2017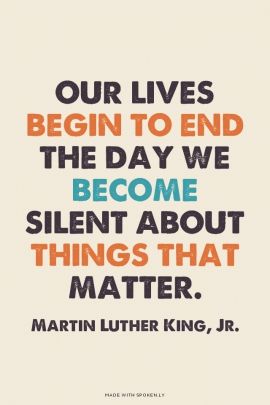 Topics: Uncategorized | No Comments »
January 16, 2017
I don't know if they are marching against xenophobes or if they are marching against Trump as some of the signs seem to show hatred towards Trump….which is also okay.  
Topics: Bay Ridge, Brooklyn | No Comments »
January 15, 2017
Railroad Stock Worker, Exam # 7605
Application Deadline:  January 24, 2017
The current minimum salary for a Railroad Stock Worker is $21.73 per hour for a 40-hour week.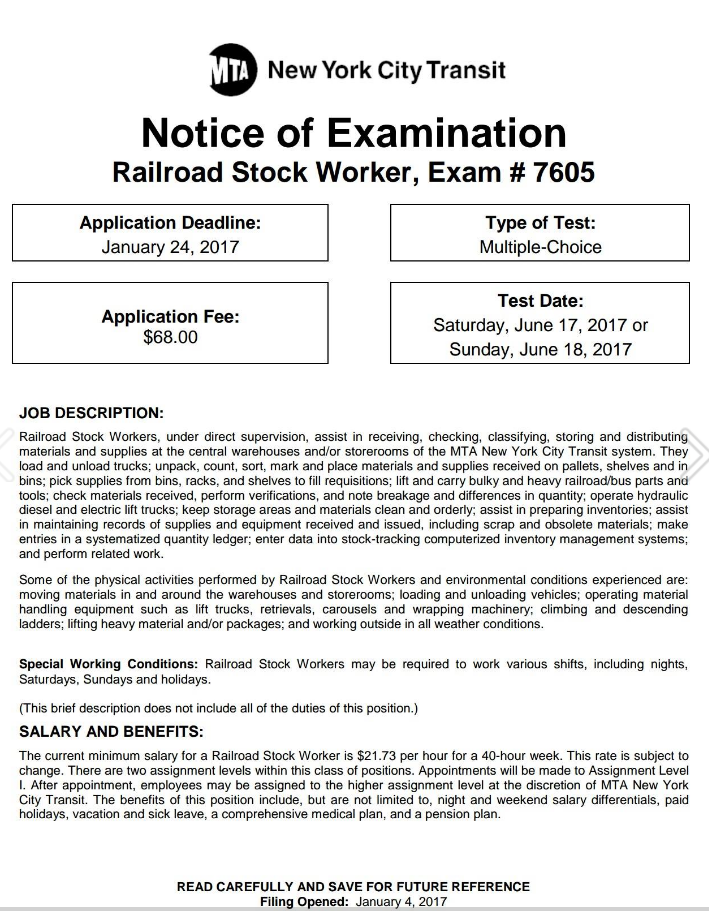 HOW TO OBTAIN AN APPLICATION: Online at  http://mta.info/nyct/hr/appexam.htm or in person at the MTA New York City Transit Exam Information Center which is open M-F 9-3pm     180 Livingston Street, Brooklyn, New York. Center will be closed on Monday, January 16, 2017.
Topics: Uncategorized | No Comments »
January 15, 2017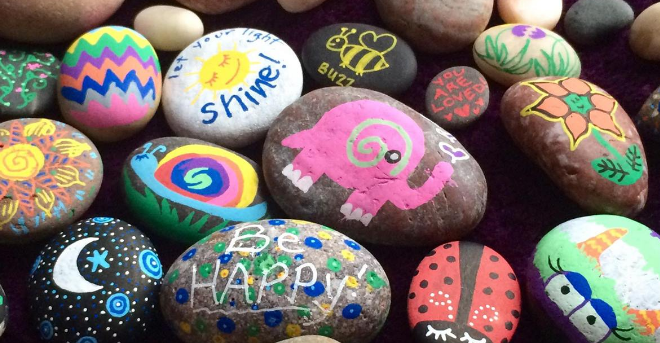 I keep seeing decorated rocks around Bay Ridge. I saw one on a crossing light while I was on my way to work the other day. I didn't pick it up because it looked like they may have been placed in the spot for as part of a scavenger hunt or something like that.
I did a search for Bay Ridge rocks and sure enough kids and adults are painting rocks for other people to find. So if you find a rock, you post a picture of it here to let the person know you found it. Just a way people are brightening other people's lives.
Topics: Uncategorized | No Comments »
January 14, 2017
I think it's nice that someone's organizing an event with various cultures. Our Saviors Lutheran Church is holding the We Are Bay Ridge even on Saturday, January 28th.    414 80th Street – the school and gym are behind the church (seen below).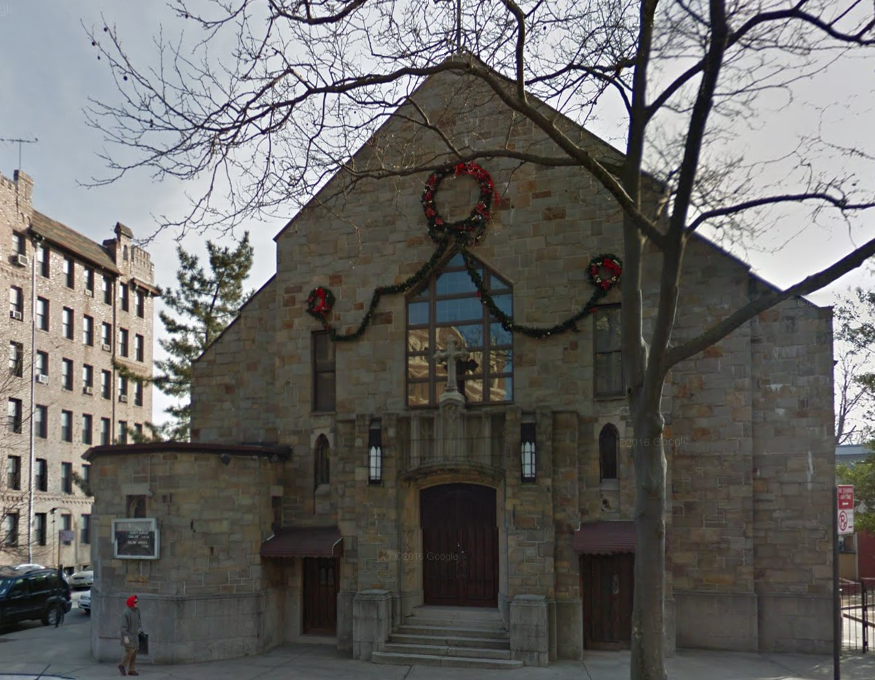 How come the Lutheran Church hasn't done this before? 
At the bottom of the flyer are two organizations names –  Our Saviors Lutheran Church and the Salam Arabic Lutheran Church – it's apparently the same building, but they are separate congregations. This is Our Saviors FB Page  and this is Salam Arabic Lutheran Church  which also has it's own website.  Why can't they just be one Lutheran Church? Churches have been having bilingual masses and services in other languages for years. It's strange because if a religious organization can't be united, how can it's people?  Even weirder is that the Salam Arabic Church has a survey on their site in English asking people what language they speak. If they can't read English, how can they do the survey?  Wouldn't they need the survey to be in all of those languages or at least provide a toggle language button if they were to accurately survey a non-English speaking community?  Maybe the leaders from the two groups should have dinner together and pull their communities together.

A lot of events are run in Bay Ridge and there is always a contact name and number, yet no one from the church puts his/her name on the event.  Maybe they are unfamiliar with running events, but people always have questions.  
I'm sure the event organizers thought calling the event 'We Are Bay Ridge' and inviting people to wear ethnic clothes felt right.  Why does it sound so forced?  Hopefully, everyone running it is just filled with good intentions and inexperienced at writing a flyer.

Topics: Bay Ridge, Brooklyn | No Comments »
January 14, 2017
Cedar Star Soccer Program at PS 102 – 211 72nd Street
Topics: Bay Ridge, Brooklyn | No Comments »
« Previous Entries
<<|>>