January 10, 2015
Assemblywoman Nicole Malliotakis unsuccessfully tried to get the Staten Island Republican Party to put her on the ballot for former Congressman Grimm's seat. She even went to Washington to try to get support because she thought she only had the support of two out of 25+ members of the panel.  
I don't care too much about who takes Grimm's seat because let's face it – they aren't going to do anything for Bay Ridge. Did Grimm?

But I had a good week watching Malliotakis unsuccessfully try to rally support on social media.  It looked like an act of desperation. My great grandmother used to describe what Malliotakis did as "running around like a chicken without a head."  This isn't a fifth grade class election, it's an election for Congress.

Mary Reilly from the Staten Island GOP says that Malliotakis would have a larger learning curve for the job. Writer, Hunter Walker tweeted this about Malliotakis
The article showed what I have seen about Nicole Malliotakis and it wasn't pretty.
Malliotakis saw Republicans choose Donovan over her. Even Marty Golden and Assembly pal, Joe Borelli supported Dan Donovan.  WOW! Malliotakis had endorsed Steven Matteo in the past, yet he threw his support behind Donovan. The people Malliotakis worked closest with publicly supported Donovan – what a blow!  I mean they could have said 'NO Comment' but they chose to let their opinions be known!  
Malliotakis campaigned for many Republicans in the past who failed to win office. You would think those Republicans would sing praise for Malliotakis. NOPE – some chose to support other candidates or didn't say anything at all. Former mayoral candidate, John Catsimatides called for Grimm to resign and he threw his support behind Vito Fosella,  Wendy Long was endorsed by Malliotakis for Senate and was nowhere to be found or heard from now.  David Strobin also claimed support from Malliotakis in the past, but was no where to be found when the Republicans divided up. Finally, Steve Lilikakis and Marty Golden's aide/former city Council candidate needed Malliotakis' support in the past, but didn't mention her on their active social media account. The Republican Party doesn't believe in Quid Pro Quo!  1/11 Update: Steve Lilikakis, Assembly candidate who Malliotakis backed in 2014 wrote on Facebook

I hope Nicole Malliotakis is shocked and annoyed that Dan Donovan was chosen over her, That's the exact feeling residents had when they saw Malliotakis voted for Golden's tax breaks for billionaires bill. Malliotakis hid the vote by failing to mention it on social media. The Staten Island GOP hid their collaboration and made her run around this week when the Donovan deal was already done. Yup that's a taste of the politics we watched you participate in.
Topics: Uncategorized | No Comments »
January 9, 2015
Bay Ridge and Staten Island are all abuzz with who will grab Grimm's empty seat. For me, this is just politics as usual – two people who don't do their job well want to be promoted!
First is Dan Donovan, the District Attorney who failed to get an indictment for the Eric Garner case.  He wanted to keep favor with the police because he knew he wanted to seek a higher office. I've never heard Donovan's name in anything else as he is a Staten Island DA. I'm not sure why he would think Bay Ridge would be interested in him, but I see Marty Golden has that part covered and all you conservatives out there will vote for him.
Photo: Gage Skidmore – CC License
The other Republican looking to step into Grimm's seat is Nicole Malliotakis. People always say, "oh yeah she's good."  When I ask them why, they always say she is a woman or she's Greek and Hispanic. Okay but what are her accomplishments? When people tell me that she got a bus back, I have to shake my head. Three politicians (Golden, Gentile and Malliotakis got the bus back) and it's a bus that isn't widely used. Most people in Bay Ridge don't use that bus as they use the train or car. When the bus is running, it is less than half full. Malliotakis also takes credit for closing the massage parlors in Bay Ridge. Again, thee politicians worked on it so I am unsure how much she has done. If you drive home on the weekend, you can see there are many late massage parlors open n in Bay Ridge.
I lost all respect for Nicole Malliotakis when I realized she had released press releases crediting herself for the Pet Tattoo Bill. Malliotakis failed to mention Assembly woman , Linda Rosenthal in the press release. Papers and blogs printed what was in the press release without fact checking.  On social media, I told Malliotakis  the mistake and I requested that she update the stories. She didn't. I even wrote to Brian Laline of the Staten Island Advance and Ned Berke of the Bensonhurst Bean. I even sent sent LaLine the link from NY Assemby Bill Search - search for  Bill A739D-2013 to show him that Rosenthal was the original creator of the bill and he didn't want to update it.  Malliotkis could have apologized and moved on, but she didn't. Nicole Malliotakis is just out promoting herself and doesn't see anything wrong with taking credit for someone else's work. Malliotakis should be promoting other women in politics.  I told Linda Rosenthal that Malliotakis was doing this (I'm sure she was aware)  and Nicole Malliotakis never  apologized to Rosenthal.  
Malliotakis has been in the NY State Assembly for years and has no prime sponsored legislation. She has only a few cosponsored bills, yet she wants a promotion – GIVE ME A BREAK!  Tell Malliotakis to do some work in Assembly and stop telling us that we should vote for her because she is a woman or that she is Greek and Cuban. If you have to run on y0ur gender or ethnicity, you aren't qualified in my opinion.
 I found qualified Republicans out there, but either they aren't interested in running or the Staten Island GOP isn't interested in them. 
Topics: Uncategorized | No Comments »
January 7, 2015
Grab your bowl of popcorn because politics in Brooklyn and Staten Island has reverted back to fifth grade. Marty Golden has Nicole Malliotakis backing his stupid moves (remember he introduced a bill which gave millions of dollars in tax breaks to billionaires – Malliotakis voted in favor of this bill and forgot to mention her vote anywhere).
Malliotakis and Golden even did yoga together.
But when it came down to choosing between Donovan and Malliotakis – Golden chose Donovan.
I don't think Malliotakis has learned the lesson yet. We shall see in the upcoming days!
Topics: Uncategorized | No Comments »
December 31, 2014
Common sense went out the door in 2014 for most of the world.  What we saw:
1. Eric Garner death and all that followed  probably was the biggest story of the year. Seeing it on YouTube was shocking as I would have never believed that could have happened that way if I didn't see it. I watched it many times and looked up similar videos because what I saw was so different from the cops I knew as a kid and growing up. The court case that followed was ridiculous and it shocked me that no Staten Island representatives stood up for the man after seeing that video. And I found most people are either on one side or the other – there are few who see the grey area – but it's there.  This guy should run for office as he gets it.   Best advice I've seen on the topic came from this minister.
2. This election year that showed people didn't care to vote shocked me. Keeping politicians in office who have committed crimes and haven't done the right thing for people shocked me. I think they were even shocked that they stayed in office. But did they really want to stay in office after they embarrassed themselves and their family. I mean, your family sees the truth and it's just ugly that they have to live in it.
3. I've watched a lot of people lie – some people lie about stupid things, but some lied about some real important things too. Eventually everyone sees the lies no matter how people try to cover it. 
So I've learned that I shouldn't be shocked by other people's stupidity……I shouldn't be, but I am always am. I'm glad that initially it shocks me – it shows that I haven't become so desensitized to the world like most people become. I wouldn't be me if I wasn't shocked by people's sheer lack of regard for others  and stupidity. Finally, some of my best moments in 2014 were spent with people who aren't part of my life in 2015….sad, but true. 
~~~~~~~~~~~~~~~~~~~~~~~~~~~~~~~~~~~~~~~~~~~~~~~~~~~~~~~~~~~~~~~~~~~~~~~~~~~~~
For us, 2014 was pretty amazing even with the small bumps in the road of life. Lee's crazy infection and time in the hospital showed me so many things – mostly I was shocked at how calm I was. Normally I am a nervous wreck when someone has an operation. I always fear the worst. I felt God was near and I shopped in Park Slope as his operation took place. When the doctor called and said he was okay, I rushed back to the hospital and was glad to see he was awake and feeling well – but I wasn't surprised. I knew he was going to be fine. In the weeks that followed, I realized how serious this could have been and I realize how fortunate we are. 
So anyway, the start of 2015 is going to be real good.  We have to finalize some things……and that will change a lot of things and then a big party will follow too!  I hope 2015 is filled with happiness, good health and faith for you!
Topics: Uncategorized | No Comments »
December 22, 2014
If you stopped by in the last month, you are probably wondering why I didn't update. Well our life had some twists and turns which life normally does, but this time it was Lee's health so it was a bit different.
And he's on the road to recovery and taking good care of his health with a swarm of doctors and nurses too. Yeah it was that serious. (As a side note, if you know me you know I worry when my loved ones aren't well…..not this time – God held me close and I knew Lee was going to be alright).
On the last Saturday of October,  I went with Lee to his doctor because he had a cut on his foot caused by wearing new boots.  His doctor told us to go to the hospital and get intravenous medicine because the cut looked bad. Specifically, the doctor referred us to Lutheran Medical Hospital and a specific doctor there.  We went to Lutheran Hospital's emergency room. The doctor we were referred to was not a podiatrist, so she called the hospital's podiatrist. The podiatrist came and didn't do a lot for Lee. He was still in a lot of pain. Lee doesn't complain (ever) and he doesn't take time off from work for illness (ever) so I knew it was serious. I stayed with Lee until Sunday night and then I went home. When I talked with him on Monday I realized  something was wrong. He spoke very low on the phone and told me he was okay, but I knew he wasn't. I went to Lutheran with pain medication. He was laying on a gurney  in the emergency room for three days and they wouldn't give him a room.
I found the hospital to be awful and knew I had to get Lee better help. It took hours for me to convince him to leave, but I finally got him to go.
We went to a podiatrist in Bay Ridge – Dr. Paul Liswood the following day and he said Lee needed more intravenous medicine and that the would would need to be operated. He sent Lee to the Wound Center at Methodist Hospital. They gave him a room and the doctors and nurses were much more attentive there. His foot was operated on and twenty minutes after the operation he walked on it.
Lee stayed in the hospital that week as they gave him intravenous medicine and monitored him. He came home in November and had several nurses visiting each day.
I'm too tired to write more but will update this soon.
Topics: Uncategorized | No Comments »
October 29, 2014
I didn't write about our weekend here yet…but I will soon.
Lee was in the emergency room this weekend – all weekend (he's doing okay now). His friend sent me a text tonight that said: "Thank you for taking such good care of my friend."
Lee is the most amazing person I have ever met in my life. Taking care of him is my pleasure. He's never been sick – even a little in all the time we have been together and he's always taken care of me.
My friend said tonight, "you love Lee so well."   Lee taught me how to love well by loving me so well.
*Family and friends thank you for staying so close this week. It's all the little things you offered to do that matter so much (feed our pets, move the car, etc).  I am a very lucky person.*
Topics: Uncategorized | No Comments »
October 29, 2014
I took Lee to see Dr. Paul Liswood, a podiatrist on 72nd and 4th Avenue in Bay Ridge. Dr. Liswood is everything you want a doctor to be. He's professional, very neat, pleasant and a good listener. He's been a podiatrist for twenty years and he confidently spoke about Lee's treatment.  Dr. Liswood can be seen on a video here, but he's actually a lot friendlier than the video implies.
His office staff was super pleasant and professional. You know when a doctor has a great reception/office staff that stinks it can be such a pain to go to the office. The three ladies that were working there were pleasant and awesome.
A patient that went before us was elderly and he walked well so I attribute that to his great podiatrist!
The only thing negative may be that the office is older – but in a good comfy way. It's clean and pleasant.
I absolutely loved Dr. Liswood and of course I shared him here so you can enjoy him (just don't take all of the appointments).
Topics: Uncategorized | No Comments »
October 27, 2014
The strangest thing just happened to me. I posted on the Bay Ridge forum some links to articles about Marty Golden so that Bay Ridge knows what he has been up to. John Smythe told me that my post would be deleted. I wrote him a private message and explained that Michael, the head of the forum said I could post it. I wrote on the forum to let John S,mythe know that I wrote him a private message. Then the strangest thing happened. John Anthony Sichenze responded under my message and told me that he didn't receive my private message. I was confused at first and then I realized that one man has two accounts – who knows which who this guy is. So I googled his name with the words Bay Ridge and there are some posts saying he is 56 years old. John Anthony Sichenze first deleted his reply to me, then he de;eted my post, then he deleted me from the forum and hid the forum so I can't see it. I don't know any 56 year old man who would bother doing something so childlike. A 15 year old – yes, but not a man.
It's probably a fake account because there are just facebook links and no one acts like that.
Topics: Uncategorized | No Comments »
October 17, 2014
I don't know James Kemmerer personally. I have spoken to him on social media and I have followed his writing for two years. Kemmerer decided to run for office because he was tired of corruption and knows we are too! 
Like you, I wanted to know his background. I've snooped around the web to see what I could find about Kemmerer and here's why he is right for Bay Ridge:
1.   I found this letter on the NYC.Gov site that Kemmerer wrote years ago to the NY Districting Committee about our Bay Ridge area being broken up for representation. 
2. Kemmerer loves politics and has been blogging about it for years. He reads all of the documents that most people don't. WHY? Because he's really passionate about politics. Kemmerer read the Moreland Report and wrote his views about it here
3. Kemmerer owns a web development company. In his spare time he has been a community activist running meetings to educate the public on Fair Elections  and attending meeting like the Moreland Commission public hearings and   – I LOVE THAT HE IS SO PASSIONATE ABOUT THIS!  Kemmerer has been working to get money out of politics for a long time. He doesn't get paid to do this – as I said – he's just passionate about this because he sees how it is affecting elections and decisions in Albany. Campaign finance reform is needed so that anyone who wants to run for office can, not just a few corporate backed people. 
4. Kemmerer and his wife took action when Hurricane Sandy happened. He and his wife cooked meals in their home and  he continued to do so - see article's date April 2013    Check the article because Kemmerer is noted for saying:  "If New York's the greatest city in the world, then we have to take care of our own." He understands the needs of people in other areas he will represent like Gerritsen Beach, Sheepsheads Bay and Manhattan Beach who were hit by Hurricane Sandy. Not everyone received the assistance they needed to recover from the storm.
5 Kemmerer and his wife and son live in Bay Ridge. The sweetest picture can be found on his personal FB page (like I said I was snooping for info on him).  Kemmerer is the father to this cute two year old boy. So schools in our district will be a priority to him! I'm a teacher and I was impressed that Kemmerer mentioned that he wanted to reduce class size. If we want to see an improvement in education, we can't cram 33 children into a classroom and expect that they will receive a top notch education.
6. Kemmerer is friends with people who are genuinely concerned about Bay Ridge – like Councilman Vincent Gentile &  Justin Brennan
7 Kemmerer owns a web development company called Geekpak.  Just the name of it should tell you we are good hands. Geeks are intelligent and kind people!  He doesn't have a catering hall so he will need to use Bay Ridge or Brooklyn businesses for his functions which is a good thing because it will funnel money into local businesses.  As a small business owner, he will be able to understand the needs of our community with it's Mom and Pop shops.
8. Kemmerer is backed by Teachout and Wu  and Teachout - these are people who want to reform our broken system. Teachout called out Golden: ""What he is doing here is, his company, his family business has received over half a million dollars from campaign funds and state funds. And you don't need to be a genius to recognize there's something wrong with that. That we have a system that allows a state senator to instead of serving the people of Bay Ridge to be serving his own business and his own interest."
9. Kemmerer is 42 years old.  Marty Golden is 64 years old – (Golden was 48 when he became the Senator) 
10. Did you see this visual aide Kemmerer made about Golden?  I can see him educating the Senate in the same clear fashion.
11. Kemmer is educated and well spoken. He has a keen sense of humor that I have heard several times (a sign of an intelligent person).
Listen to the audience speak with Kemmerer – they didn't pick up what Kemmerer immediately caught from what Golden said – (a sign that he's a good listener too). Kemmerer's response showed he's sharp. 
12. Bay Ridge, Marty's attention is diverted with wheeling and dealing in other parts of NYC and it's James Kemmerer's time! While Marty continues to supports fracking despite studies showing it isn't safe, Kemmerer is against it.
13. We all know that the cost of the Verrazano Bridge is too high and the R train needs some serious upgrading.  Golden has been in office for 12 years and couldn't do. Kemmer understands what we need!
 Jamie Kemmerer will work to (from his site here):
• decrease travel times and wait times by modernizing important transportation infrastructure such as Communications-based Train Control (CBTC)
• install subway elevators for easier access by seniors, parents and people with disabilities.
• install Subway Wait Clocks at 36th Street, 59th Street and New Utrecht / 62nd Street stations.
• increase bus service not just restore previously cancelled routes.
• expand WiFi and Cellular access to Brooklyn subway lines.
• reduce tolls on the Verrazano bridge for all NYC residents.
• Create a "Safe Route to Schools" program monitored by families and community groups to mark street routes that avoid truck routes and the most dangerous intersections. Where crossing heavily travelled streets is unavoidable, install special markings and electronic traffic signs to improve safety and warn traffic of street crossings.
• Require truck and bus "undercarriage protection," so people can't be dragged under these large, high vehicles, and to reduce injury if a car collides with a large truck or bus.
• Expand street based community events like the popular "Summer Stroll"
14. James Kemmerer understands the needs of the middle class.
 James Kemmerer wants to create a government for all people. He's fighting under the main topic of corruption because it is a corrupt government which allows for tax breaks for billionaires. These breaks and the 'pay to play' politics is what stops progress and makes ALL OF US REGULAR PEOPLE PAY MORE TAXES!

Topics: Uncategorized | No Comments »
October 17, 2014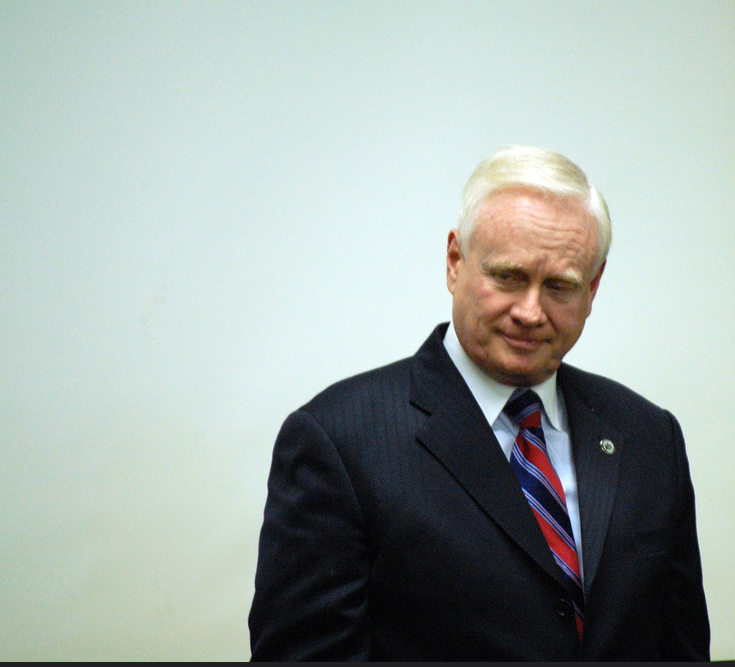 Photo by Gerritsen Beach.net  - CC License
I SMH every time I read something in the news about Marty Golden.  (SMH means shake my head for those who didn't know the acronym).
I think Marty Golden must go home and laugh about all the things he does and yet still remains in office!
In 2012, I voted for Marty Golden in 2012 AND YES I AM SORRY I DID.   At the time, I believed Golden was going to help me with a problem our block had.  In actuality, Golden's office representatives just wasted my time and gave me the run around for nine months.  I even called Albany to reach Golden and I got his Chief of Staff, Gerald Kassar. Kassar told me he would send me documents and didn't send me anything. I never heard from Marty – AND I SHOULD HAVE. When Golden saw his representatives mishandled my problem, he should have acted because he is the elected representative.
I didn't take Golden's office reps not helping personally because Golden couldn't help them either! When Golden's staffer didn't have his garbage picked up, he didn't call Marty.  He went on twitter and ranted about it. The newspaper even covered his rant here, When my garbage doesn't get picked up, I call the sanitation supervisor on his cell phone. I have owned a home in Bay Ridge for five years - Marty Golden has been in office for twelve years. He doesn't have any connections in the Sanitation Department that his staffer could have called!

In February 2014, we realized Golden doesn't know what his staff is doing when this appeared in the paper:
Here are 12 reasons I feel that Marty Golden is no longer working for the people of Bay Ridge:
1. Senator Golden introduced a bill to give huge tax breaks to a few developers in Manhattan. Why would our Bay Ridge Senator introduce a bill for a developer in Manhattan?  Liz Kruger is the Senator who represents the area where the tax breaks were given and she would have presented the bill. Instead, Liz Krugger called Golden's bill "corporate welfare" and said, "This is a perfect example of what goes wrong with the wheeling and dealing in the backrooms of Albany."    The city lost millions of dollars in tax revenue as a result of Marty Golden's bill.  The developers contributed to many representatives funds. The Daily News reported the following:
    2. The recent news about $500,000+ going to the Bay Ridge Manor is disturbing (yes 500K+).    
Again, I shake my head at this because it's just ridiculous. Money going to the Bay Ridge Manor has been in the news for years see here, see page 11 and here too.  
3. US Attorney, Preet Bharara is investigating Marty Golden.  A federal investigation!    Tweet from twitter:  (ICYMI – in case you missed it)
4. Pay to Play – Let's follow the money – here     Here's another one of Golden's bills was noted for Pay to Play politics here and here. The New York Times said it best:

5. Marty Golden was endorsed by NFIB, an organization that the Koch Brothers fund. (If you don't know who the Koch brothers are – google them)
6. The New York Public Interest Group (NYPIRG) put together a report  about our State Senators and Assembly Members (see page 13_ – here they listed Senators who missed over 100 votes in Albany. Look who made the list!
7. Golden supports charter schools.  Schools in our area are overcrowded, yet Golden voted in favor of charter schools.  Charter schools have enough private investors supporting them.  The first class of Harlem Success Academy graduated last year and not one of the students got into the specialized high schools, Stuyvesant or Bronx Science. I am a teacher in Brooklyn for over twenty years and our public middle schools have done WAY better than that!   In our area, Cavallaro Middle School was forced to share their school with a charter school. See here and here.
Even in Marine Park, parents don't want charter schools in their existing schools.
                                                                                                                                                                                                       Photo by:  GerritsenBeach.net CC License
 8. Golden has endorsed a lot of losing candidates that thankfully Brooklynites did not vote for including:
 Photo by MTA CC license
BTW, Golden held a fundraiser for Grimm on on September 18, 2014 at the restaurant Mama Rao on 11th Avenue and 64th Street. Grimm is indicted on 20 counts.  
9,  Golden supports fracking. Golden is not an expert on fracking. The studies show fracking is unsafe (Safe fracking is also a mythical unicorn).  Look at what happened in PA with fracking – fracking happened near their home.   
10. Golden and Nicole Malliotakis spent money to put up a website to collect your information. You thought that you were signing a petition to stop the high priced Verrazano Toll.  Where did your information go?   Golden admitted failure in not getting the toll lowered.  Yet the website still remains up and Golden and Malliotakis are still collecting your info. To waste money and purchase the domain to put up a survey about the overpriced toll was ridiculous.    
11.  In June 2014, Linda Rosenthal, a Manhattan Assemblywoman got her bill to ban pet tattooing and piercing passed.   Nicole Malliotakis and Golden released press releases (Malliotakis' is here and Golden's here) so that the news and blogs would pick it up and people here in Bay Ridge and Staten Island would think it was the work of these officials.  Malliotakis  did not join Rosenthal's bill until after it was introduced and Golden was never a supporter named on Rosenthal's bill.  It's one thing to try to offer "walk like a model." classes to women in Bay Ridge, but to try to steal Assemblywoman Rosenthal's success and waste time with duplicate bills in the Assembly/Senate is another.
12. Marty Golden has been in office twelve years and he has become someone whose focus has changed.  Even his actions at the Brooklyn Republican Convention are strange.  It's time for us to have someone who is  only focused on Bay Ridge.   Golden's opponent, James Kemmerer has one thing in mind – to fight corruption in Albany. And that means he is going to work on stopping the waste of money.   I don't know Kemmerer personally, but I have spoken to him and he is a very intelligent man. He will be listened to in Albany because he is an excellent speaker. We can trust him because he's not looking to do back room deals. 
 SO join me on November 4th and Let's vote Marty out of office!
Topics: Bay Ridge | No Comments »
September 30, 2014
September always keeps me busy. We started the school year and my new classes are awesome!  
Saturday we cleaned the yard in the morning and then we went to a gathering which we won't discuss. 
Sunday was the Third Avenue Festival. I hadn't gone in a few years because September is always busy. Yet, this year a good friend of mine wanted to go so I went. And the Festival was great. What I came home to was more amazing though. Lee washed all the laundry (correctly)  and folded all the laundry.  He cleaned the washing machine and dryer and he deep cleaned the dryers vent (with a kit like this)  He is always a reminder to me of what's right and fantastic in the world. God did good when he gave me Leon.  
So that's all I felt like writing about! 
Topics: Uncategorized | No Comments »
September 4, 2014
Dear Ben,
I looked for you on the web, but your name is so common and I wasn't able to find you. I have been meaning to write this to you for awhile. 
I had the pleasure of knowing Daisy Hilse Dwyer for several years of my life. I applied to be your babysitter in 1993 in Downtown Brooklyn. It was my first day of college and I wanted a job so I could make some money. (Truth: I chose your Mom's ad because it was the highest paying babysitter job on the college board). I called your mom that day and he called me back right away. The following day, I met her and then you and I started working for your Mom the following day! At the end of the day before I left, she and I would speak about you and eventually we started discussing history, She was an amazing woman who attended Harvard and Yale, wrote two books and was an attorney. How many people can say they did that? I was a history major who Daisy gifted her two books. I loved reading them and I remember my professor being surprised that I even knew her!
I remember when she first got sick. I didn't know at first and when she told me, she had already lost her hair from the chemo. She went to an amazing shop to get a wig so she would still look like herself. I actually complimented her on her hairstyle and that's when she told me it was a wig. She was glad that I had said how good it looked. After hearing about her treatments, I rode home on the train and cried my eyes out. How does a woman who eats healthy ALL THE TIME, works out and is the image of health, get cancer?  You were just a boy and she wanted to protect you. The most important thing in her life was that you were happy and healthy. When you came running into the room, you made her hard day melt away. 
When I heard she had passed away, my heart sank. When I read her obituary, I thought that it didn't fit the incredible woman I knew. She was kind to everyone and never had a bad word to say. Daisy was always so busy with work and her family and she didn't have time for nonsense. When she was home, she just wanted to relax and do things with you. She was an is one of the most amazing women I have ever known and I was fortunate to have know her. In a time in my life when I was just figuring out who I wanted to be, I aspired to be your Mom who had it all!  I thought her obituary didn't reflect Daisy's greatest accomplishment -> YOU. Ben, you were the star of your Mom's life. She was so happy to have you call her Mom. 
If by chance you read this someday, I hope you are doing well and are happy! Drop your old babysitter a line.  (It was a pleasure to know you as well). 
Topics: Uncategorized | No Comments »
« Previous Entries
<<|>>