December 10, 2019
Best Summer Camp in Bay Ridge. Most Popular Summer Camp in Bay Ridge, Brooklyn

Summer Camps in Bay Ridge or Nearby in Brooklyn
It's time to get ready for 2020! New rates will be added as they are available.
You know you are a Bay Ridge mother when you start looking at camps in December because the good ones get filled by March!
**The Brooklyn School of inquiry has an  auction for Summer camps
** See the free Summer Camps for the area here. 
1) Saint Patrick's Summer Enrichment Program – 401 97th Street
This camp  is best known for being affordable and fun (my friend's daughter went two years in a row). 2019 price: $2100 for seven week. $350 a week or $75 a day.  Early dropoff at 7:45 ($10 a day) and extended day 4-6 pm ($20 a day or $75 for the week). See form here.  Medical form here  Summer reading, math challenge, arts and cradts, sports, water activities and yoga. 

2) Bay Ridge Sports & Theater Camp at Holy Angels This camp is one of the lowest priced camps in the area (good trips, but the cost extra). If your child loves sports or acting this is a great camp. Better for kids a little older…7 and up. They kids play a lot outside in the schoolyard. The gym is not air conditioned. If your child is not interested in sports, choose a different camp.

Camp is held at Our Lady of Angels 337 – 74th Street    718-745-7776  – Affordable/one of the lowest price camps (2019 price:  $230 a week or $50 a day.  $100 registration fee).   Camp starts at 9 am (children can be dropped off at 8:30 am). Regular pickup time is 3:00 pm.  They have before and after care for $6 an hour.   Great thing – this camp lasts until right before Labor Day. Flexible about the number of weeks you do.  See more info here  Check out their Instagram page – cute and amazing!  Transportation available.   Scholarships are available for qualified families. Call Steve Carberry   718-745-7776  or info@bayridgesportscamp.com
Bad thing: This building does not have air conditioning in the gym – just in the cafeteria where the small kids are.  
3) **Amazing Deal for Sleepaway Camp:  The Salvation Army Bay Ridge Corps located at 252 – 86th Street has a summer's sleep-away camp at Star Lake, New Jersey for children  7 – 12  years old.  Application fee is $75, but the camp is free.   Contact Vera Adams Mon. – Thurs. 8:30 am – 4:00 pm at 718-238-2991.

4) IS 30 and PS 104 NIA Programs – $1850

5) Urban STEAM Lab 7912 5th Avenue

6) Lutheran Elementary School (LES) at 440 Ovington Avenue $1930 for the full summer 7 weeks Monday to Friday 9 am- 4 pm (or $285 a week)  –  Ages 3-10.  This camp is popular because of it's good rates AND THEY HAVE HALF DAYS TOO ($175 a week)  They have early dropoff ($8 a day) and extended day for $15 extra (or $80 for the week for both)  Focus: Music, creative movement, sprinklers/small pools, gardening and literature. $40 registration fee.  Info    Very flexible – pay for the day or week. Registration form 



7) Play and Say Summer Intensive Theraplay 7622-3rd Avenue

8) Fontbonne High School has a few different camps during the Summer. 
 Fontbonne Cheer with The 

Champions Cheerleading Camp 

– July 29th – August 2nd – 9:00 am – 3:00 pm  for children in grades 2-8 who are interested in learning how to cheer. It's for one week in the beginning of August. 9 am – 3 pm –  $225 – bring your own lunch. Debra Pepe 347-728-4673 pepe@fontbonne.org    Register here

9)  Fontbonne's Musical Theater Camp – This camp is for students entering the 7th to 12th grade. July 8- August 8 Monday to Thursday 8:30 am – 1:30 pm. Extended day option with a dance focus (1:30-2:15). The musical theater summer camp at Fontbonne is a five week program that will allow students to develop their musical theater techniques through training, coaching, and artistic engagement in a collaborative environment of their peers. The camp will begin by introducing exercises that allow the students to be comfortable with performing as well as improving dramatic instincts. The program will end with a musical theater showcase that will display the talents of the program's participants. Students will be encouraged to perform numbers from their favorite musicals, as well as different and challenging material.    Contact glasser@fontbonne.org to register or with questions. 718-748-2244Last year: $750. $50 registration free. 

10)  The Art Room – Art camp at 8710 – 3rd Avenue for children 4-12 years old.
WE'RE EXTENDING OUR CAMP HOURS IN 2020 — 8:30 am – 2:00 pm
Camp Tuition weekly rate – $650




Camp Tuition weekly rate for siblings – $600




Deposit required for any given week of Camp – $100
11) Bay Ridge Kids – Summer Camp at Christ Church 7301 – Ridge Blvd. Painting, crafts, playing outside, cooking, swimming, a talent show, picnics in the park and trips too!   718-745-1551
12) The Ridge Creative Center 939 – 83rd Street at Redeemer St. John.  Affordable – ages 4-12 (preK to grade 6) June to the end of September.  From 8 am – 4  pm the cost is $250 per week plus they also offer extended care from 8 am  – 6:30 pm the cost is $290 per week. Great art projects, theater, movement and cooking. Trips to Museum of Moving Images and Lincoln Center Library. The children play outside every day. Flexible and part time hours are okay.  Twenty students only. End of the Summer performance and student exhibit. Contact Victoria at theridgecreativecenter@gmail.com

13) Bay Ridge Prep – Summer Kickoff Camp – Two week program for students in grades k-8  Monday to Friday from 9 am – 4 pm. 675 for the two weeks or $350 a week. Good trips. Contact:  Luann Senisi at lsenisi@bayridgeprep.org or  718-833-9090
14) Xaverian XCel Program – Summer program for 7th graders with an 80 average or better. July 1 to August 1, Monday through Thursday, 8:30 am – 2:00 pm. There is no XCEL on Fridays.Educational, Spiritual and Leadership – TACHS prep, robotics, silm, studio art, creative writing and dramatics – only 150 seats. Apply by April 9th.
15) Xaverian Basketball Summer Camp 7100 Shore Road. This camp is for boys and girls in the 2nd through 9th grades. Camp starts at the end of June and goes to the beginning of August. Monday to Friday 9:00 – 3:00 pm. Each week they make new teams.  $300  a week – all campers get free pizza on Friday.  You can bring your own lunch or pay $9 a day for lunch. No aftercamp for working parents. At the end of basketball camp, there is a one week baseball camp for boys and girls in grades 5-9. $300 for the week. Same deal with lunch and pizza on Friday.
16) Music Box School Summer Program  9402 Fort Hamilton Parkway – There are three themes (two repeat). 
They have Little Mozarts (singing, dancing and playing instruments for little kids),  a Kids Rock Band (for children who play an instrument) and Disney Princesses!


17) Farm to Table Summer Cooking Camp – This cooking camp's location is around Owls Head Park in Bay Ridge and is for children ages 6 and up.  See informational booklet here. 
There are two weekly sessions:

Session 1 July 2-3-5-6  NO CAMP July 4th
Session 2 August 27-28-29-30-31 
Camp hours: 9AM to 3PM Extended hours maybe available upon request
$500 per week – The camp fee is inclusive of local home cooked lunch and snacks, transportation to and from trips entrance fee, all activities and cooking materials.   Extended day available upon request – $15 per hour.  Only 6 campers per session. Farm To Table Cooking and Nature Camp is a week long of exploration of fun, hands-on cooking, out-door activities that integrate food and the environment. 
Daily cooking activities include preparing home-cooked summer lunches, snacks, and drinks.
Daily excursions include visit to SNAP to grow! Urban Farm School, Narrow Botanical Garden, Borough Hall Farmers Market, Rooftop Garden Brooklyn Grange, Park Slope Food Coop, Brooklyn Botanical Garden, PS 102 Edible Garden etc….
Take a look at the pictures here (it looks like boys love this camp!)  
SimplyDiDelicious@gmail.com  917-297-3881   10% sibling discount.
1) Brooklyn Dance Center  Cheer Camp – 9110 5th Avenue  Brooklyn  11209   (718) 333-5767   thebrooklyndancecenters@gmail.com
19) Summer Stage Musical Workshop to perform Fame, the Musical at Bay Ridge Prep 8101 Ridge Boulevard (Bay Ridge Prep) for children ages 8 – 17 years old.

Summer Stage 2020 Here are the dates for this Summer:
July 1 & 2
July 6 – 9
July 13 – 16
July 20 – 24
July 27 – 30
Show Dates – July 31st, August 1st and August 2nd!
See video  summerstage@bayridgeprep.org  Register here

20) Super League Athletic Academy at DGK School 8502 Ridge Boulevard – Basketball and Soccer Camps by SLAANYC  (see the soccer camp ad on this page in Sunset Park) The videos of their Winter Break classes looks amazing – very hands on)   or see their Instagram

Basketball Camp is for two weeks 7/8/19 – 7/12  and 7/15 – 7/19 ($235 a week) is scheduled  at Dimitrios and Georgia Kaloidis School on 8502 Ridge Boulevard in Brooklyn for students in grade 2-9.
21) Stepping Stones Summer for Preschoolers  245 – 86th Street or 9321 Ridge Blvd.  Summer program from July 1 – August 22, 2019 for children 2 – 6 years old (great for little kids). Arts and crafts, music, science, sprinkler fun and trips Monday through Friday for 8 weeks – $3000.  8:00 – 3:00 pm. Extended day available. Half day available. Fun activities and safe. Music, art, dance, science and trips every week.   $150 registration fee.
22) Treasure Island – 347 – 74th Street.   718-238-7676.   This camp is for small children ages 2.5 – 5 years old. Monday to Friday 8:15 am – 4:15 pm  $2000 for six weeks. 
23) Beyond Dance Summer Program – 8707 – 3rd Avenue two week program in August for children 2 1/2 – 10 years old
24) Poly Prep Summer Camp   9216 – 7th Avenue    July 5 – August 12th  PreK – Grade 10.  Last year: $3120
Open House is held in January, February and March. 
Focus: swimming, arts and crafts, dance lessons, tennis lessons and circus arts.
There is a lot of swimming at this camp because they have an inside and outside pool. The counselors teach the children to swim for 1/2 hour every day. Many of the campers become junior counselors and eventually counselors.  In mid-August, Poly Prep has several one week camps like Technology Camp for $500 per week.
What don't parents like about it? Parents love Poly Prep. But if you are a working parent, this camp ends too early. If you want to send your child by bus to your parent's house locally in Bay Ridge, it isn't cheap (around $700 – the same cost as someone who lives out of the area)  Poly Prep does not have any before or after care.   Children have to go the full 6 weeks – they can not do 2 or 4 weeks
Contact Ellen Kinnane – ekinnane@polyprep.org for a brochure.
25) Park Slope Day Camp in Bay Ridge – (NEW End of August Camp ->  AUGUST 24-28th Camp) this camp meets in Bay Ridge at Adelphi School at 8515 Ridge Blvd.  It is  for children in grades k-8.  Sports, music, gymnastics, swimming, circus, trips. See their online webinars in February – March 2019
This camp is cheaper than Poly Prep – 8 weeks for $3950 (or you can attend for 10 days for $1600). There are several locations, one location is  based at Adelphi.  This camp does a lot of trips and the children travel on the bus a lot, so if your child doesn't like being on a bus, this isn't the right camp for him/her. They go to the beach and to the pool in Sunset Park and Redhook. They only stay at Adelphi school when it is raining. They go to the Park Slope Day Care (PSDC) location where they have sports, drama, music,  swimming, martial arts, gymnastics and circus arts. They also offer busing home if needed. They also have an extended week at the end of camp if you need it. If you register early, you get a discount.  They have videos of the PSDC location, but not of the Bay Ridge location.  Registration $95.

26) Gateway City Academy Summer Camp 257 Bay Ridge Ave. They put out this ad on May 20, 2019. Their program is on their website, but it hasn't been updated in years.


27) First Evangelical Free Church Summer Splash 6501 – 6th Avenue – Summer Splash Camp for children entering 1st grde to 6th grade. $460 for the Summer! July 1st to August 16th 9:00 – 3:00 pm Monday to Friday.  . Hot meals are provided. Register up until June 15th at 6611 Fort Hamilton Parkway. summersplash@dorcas-nyc.org

28) Bay One Summer Preschool Program 7106 3rd Ave

This preschool has a Summer Program for 3-5 year olds.  $1899 for seven weeks. Begins July 8th and ends August 23rd. Includes meals. Half day available.
29) Treasure Island Summer Camp – 347 – 74th Street. For children from 2-5 years old. Monday to Friday 8:15am-4:15pm Around $2000 for 6 weeks. *Parents love this program*
30) Champions Martial Arts 7005 – 3rd Avenue. Monday to Friday 9:00 am – 3:00 pm.  See here


31) Dimensions on Stage 7601 – 3rd Avenue Weekly Acting Camps  from ages 4-14.  Acting, vocal training and dance. Last year (2018) Monday to Friday 9:30 – 3:00 pm   $400 a week.    718-833-4167   Video of the little ones at Dimensions on Stage.   
32) NYC Tae Kwon Do 7909 – 3rd Avenue – Monday to Thursday – July 1st to August 23rd from 9:00 am to 3:00 pm. Early dropoff at 8:00 am and extended day to 6:30 pm. $75 a day.  718-492-5425. Tae kwon do, sports and trips to the park and bowling.  newyorkcitytkd@gmail.com

33) Bay Ridge Ballet 

-127 Bay Ridge Avenue

more info here

. Ballet for children 3 and up to Summer Intensives for teens up to 18.

34) Play and Say  Summer Enrichment for children 5-14 years old.




Sunset Park Summer Camps:
SuperLeague Athletic Academy (usually at DGKGreek School) is now at SoccerRoof at 14 – 53rd Street.   Register here

Dyker Heights Summer Camps:
1) St. Ephrem Summer Camp  924 74th Street is a for children in Pre-K to 6th grade. It has been running for nine years. The six week program extends from July 1 to August 9th You can choose to go for 3 or 5 days as well.   Monday to Friday 9 AM to 3 PM – $275 a week. 718-833-1440. Early dropoff available for $.  This camp is for arts and crafts, tennis lessons, trips, daily visit to the park, water fun every day (weather permitting), special guests end of the Summer barbecue.Teachers and counselors CPR trained. Morning and aftercare available.  $100 Registration fee.


2) FasTracKids Summer Camp – Academics & STEAM programs 2020. Lots of fun and engaging. 718-748-3000

2) Bay Ridge School of Music (formerly DG Rockers)  7207 – Fort Hamilton Parkway –  June – August 2020 – Camp for children 7-10 years old – music, sports, cooking, arts and crafts and field trip. (Early bird $1699 plus $30 tshirt fee)  $1999 regular.   8:45 AM- 3:00 PM.   Facebook
3) The Learning Experience Summer Camp at 1012 Bay Ridge Avenue is for children ages 2-5 years old from July 1st to August 31st.  They have a nice outdoor space for sports and a sprinklers! Their classrooms also look great for creativity!  718-238-3606. 


\
4) Bunny Hill at 8108 15th Avenue in Dyker Heights 347-778-5885. Grade Pre-K – 5th Grade.July 8 – August 30th  9:00 am-3:00 pm. $1250 for 8 weeks. You can also do $200 for a week. Math and Language Arts, art, and experiments. 

Champions Martial Arts   1484 – 86th Street (15th Avenue)  They had camp for the entire 9 weeks of Summer. This camp is from 9;30 am – 4:30 pm. If you do the whole Summer there, it comes out to $250 dollars a week. Here's the nice thing about this place. They have early morning dropoff from  8:00 am  to 9:30 –  no extra charge. and they also have late pickup from 4:30 pm  to 6:00 pm –  $250 per week. If you do less weeks, it is a higher cost per week, but not much higher. 

6) Danceworks Summer Dance and Craft Camp – 7116 – 13th Avenue.  5 weeks for dancers ages 3-12. Tuesday, Wednesday and Thursdays 10:00 am – 3:30 pm.  Dance, vocal, acro and crafts.   718-680-7806


7) FasTracKids – 13th Avenue and 76th Street.  718-748-3000

8) Acting Out Musical Theater Camp 7426 – 15th Avenue.  
Registration for summer classes begins May 6, 2019

All six Camps are in August only.
Fairytale – Princesses! Superheroes! Pirates! In this camp students ages K-1 will use story-telling, costume creation, and basic acting to focus on bringing their favorite fairy tales to life. Class will culminate in a sweet performance of skills learned for family and friends.   August 5-9   9:30 am – 11:00 am  Cost: $195
---
Intro to Acting Class– This is a great starter class for students ages 9-11,  who are looking to get their acting legs. Using acting games, improvisation and basic movement and vocal exercises students will gain an understanding for what the world of acting is all about. A great class to help kids feel comfortable working in an ensemble while finding their own voice.  August 5-9  6:30 pm – 8:00 pm  Cost: $195
---
Film and T.V.  Students (ages 9 and up) will gain confidence in front of the camera, know what to expect in the audition room and how to prepare for TV/Film and Commercial auditions. This class will cover everything from the basics of slating to making bold, complex choices on-camera. August 5-16th 5:00pm – 6:30pm    Cost: $199
---
Calling All Characters: Have you always wanted to play your favorite cartoon, movie or story character? Well then this is the camp for you! In this camp students ages 7-8 will use aspects of story-telling, personality building and basic acting to focus on bringing their favorite characters to life. Class will culminate in a short performance of skills learned for family and friends.  August 12-16   9:30am – 11:00am  Cost: $195
---
Intro to Musical Theater : Children (7 and 8 years old) will learn the beginning aspects of a musical theater performance (including song, choreography and character) through creative song and dance techniques. Class will culminate in a short performance of skills learned for family and friends. August 12-16   11:30am – 12:30pm  Cost: $149 ($99 If taken with Calling All Characters)
---
Teen Acting – Meisner Intensive   Learn the basic tenets of The Meisner Technique. Listening and answering and "the reality of doing" will be the focus of this 2-week session. Through Repetition and the Independent Activity, students will sharpen their ability to allow impulses to flow freely, generate freedom in spontaneity, and focus of the actual "doing" of work within a scene. The imagination will be fueled in order to pave the way to truthful living under imaginary circumstances.   August 12-16  6:30pm – 8:00pm  $299
Register

here
9) Purple Crayon for Pre-K Summer Program (for students who completed pre-k by June 2019)  1520 86th Street.    July 1 – August 23rd. 8:30 – 5:30 pm $2400.  Math, science, literacy, writing, arts and crafts, basic coding, cooking, outdoors, water play and field trips (additional fee)  Breakfast, lunch and snack included.


10) Worldtots Preschool Summer Camp 6813 – 8th Avenue.  Children 2-5 years old. July 8 – August 23rd 2019.  8:30 am – 4:00 pm. $1980.00 Extended care available until 5:30 pm for $.  Science, gardening, cooking, arts and crafts & music and dance. Half day available.


Bensonhurst/Gravesend Summer Camps:
1) Gravesend Sports & Theater Camp at Our Lady of Grace 385 Avenue W for children ages 4-15 years old. Great deal – very affordable (2018 cost:  $1600 for 8 weeks. 9:00 am – 3:00 pm. Extended care available from 7:30 am – 6:00 pm. May have a bus (for an extra cost) to Bay Ridge if there are enough children from the area. Extra bonus – they hired a teacher to help students with their Summer assignments so you can get them out of the way at the beginning of the Summer.

2) Brooklyn Italians Soccer Camp – (this is last year's ad because as of April 20th – there is no ad up)


Cancelled because on 5/14/19 Kearney announced it was closing the school. Bishop Kearney Girls Summer Volleyball Camp for Girls in Grades 7-10     For questions, please e-mail Varsity Coach Joe McGivney at jmcgivney@kearneyhs.org or JV Coach Pam Pazarecki at pam7215@gmail.com
4) New in 2019 -> FIAO Summer Mindful Summer Academy – Website  $425 a Week for ages 5-12.
Starting July 8th and Ending on August 16th.
Monday thru Friday 9:00 AM – 5:00 PM
Early Drop Off (8:00 AM) & Late Pick Up (6:00 PM) Options Available.
Lunch & Snacks Provided

5) PS 247 NIA Summer Camp -(2018 cost :  $1,600 plus $50 registration fee).  Registration is Ongoing at NIA Office  For more information, info@niabklyn.org  718-236-5266.   NIA has some free and some low cost camps – you can see the free ones here
6) Green Apron Kitchen's Cooking Camp – 7122 Bay Parkway   Cooking, baking and fun for children age 6-14 years old. Starting June 17th – August 16th (This one starts early for schools that end early)  Monday to Friday 9:00 am – 3:30 pm. $500 a week or $110 for an individual day.


6)  Marks JCH Camp– 7802 Bay Parkway -** Everyone loves this program – children and parents ** Programs for children age 2-15.  8 week program from the end of June 27 – August 16, 2019. There is a bus that cost$350 for the Summer that picks up and drops children off in Bay Ridge. Prices vary from $2300 – $3400 depending on age/program. Early dropoff $150.  Extended day – 00 A bus picks up and drops off children in Bay Ridge. Inclusion camp for children with special needs as well. Swimming, sports, creating jewelry and learning about Jewish culture. Registration for this program begins in early January.

7) Little Gym – 8681 – 18th Avenue. Summer program for 4-12 year olds to be active in their facility and do arts and crafts. This is good for students in kindergarten (they ask to go back to this camp). Monday to Friday 9-12 and 1-4 pm. June 24 – August 23, 2019. $80 a day. ($70 if you are a member. There are discounts after 10 days).  Half day available for $35. 718-259-6878. There are no trips.  See here

8) JM Learning  Summer Program at  MatchPoint – 2781 Shell Road Brooklyn
This program started in 2018  – it is  both an athletic and academic camp.
From July  to August, you will have the choice of three different time sessions. With the curriculum ranging from Summer Homework Help, to Pre-Med Classes, your child is guaranteed to have a scholarly and fun summer!  For additional information contact us at (718) 975- 2665, or info@jmlearning.com.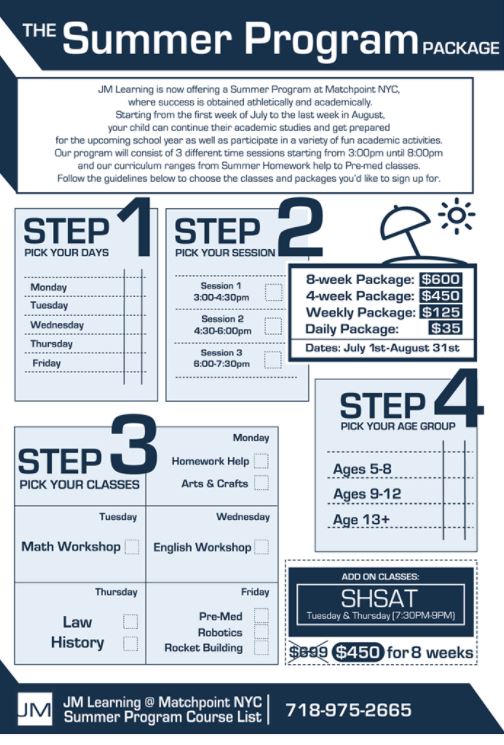 Coney Island/Brighton Beach/Sheepshead Bay Summer Camps:
1) Coney Island Soccer Camp July 1 – August 30th  at Chill Private Party Place located at 1045 Surf Avenue, Brooklyn, NY 11224. Ages 4-6 8:00 am  – 12:00 pm. Ages 7-16 8:00 am – 5:00 pm.  Soccer, arcade, yoga, art and ice skating.
The purpose of the camp is to improve the basic skills of individual players and to aid in the development of their tactical skills.

8:00 am Arrival
9:00 am Stretching/Warm-up/Technical Training
10:00 am Skill / 1v1 / 3v3 Games
12:00 pm Lunch
1:00 pm Swimming
2:30 pm Full Field Competition
4:00 pm Departure to Chill 6:00 pm
$425 a week or $1395 for four weeks. Transportation is available for $85 a week, as well as aftercare for $15 an hour. 
2) Three day Brooklyn Cyclones Baseball Camp – Camp for three days at MCU in Coney Island for children 7-14 years old. August 7th to 9th – 9:00- 2:00 pm.$200 ($180 if you pay early)


3) Coney Island Aquarium Summer Camp – 1-800-433-4149 or nyaeducation@wcs.org. Pre K to grade 8. Explore marine life, art projects, games, science experiments, theatrical exercises, and work with animals. Different programs with animals for different grades. Programs run from June to the end of August $375 a week.  Bring your own snacks and lunch. Extended care available to 5:30 pm for $130 a week.
4) Coney Island YMCA – see here  July 3 – August 25    Camp hours: 9:00 am – 5:00 pm        Extended Day hours: 8:00 am – 9:00 am   5:00 pm – 6:00 pm   Discount if you pay early. Financial aid is available



5) Camp Maritime – 3000 Emmons Avenue Brooklyn. July 1 – August 23. 2019. $599 a week

6) Kingsborough Community College Summer Camp for Kids – Info for 2019 will be here  – 2001 Oriental Blvd –  good program for children 7-13 years old, but there is no bus to pick up the kids. You have to provide transportation. 2018 costs:   $1850 for six week program  (4 week program for $1250)  
7) KidzHome Theater Camp – 163 Sheepshead Bay Road – Camp will take place on July 8th to August 30th. Children can attend one day for $105, two days (etc) or the whole Summer for $1700. Early and late dropoff available for $51 extra a day.
9) Brighton Kids Club – Art and Drama Camp


Not this one: Shorefront Y Summer Camp in Brighton Beach – for children age 3 to 9th grade  718-646-1444 ext.326   dana@shorefronty.org   Check out their YouTube Channel for videos. Program is Monday to Friday from 9-5 pm and lunch is provided. Extended day available. $550 a week or $3K for the 9 weeks
Flatlands/Mill Basin Summer Camps:
1) Mill Basin Day Camp  This camp has been open since 1998.  July 1 –  August 23, 2019  for ages 3-14   Request a tour     You can do 4 – 8 weeks/also 3-5 days a week. Early pickup and late dropoff for bus. Prices vary by age and number of days $2250 – $2950. There is bus service which takes about almost an hour each way for Bay Ridge kids (which may work out for parents who leave early for work). Swimming, gymnastics, magic, baking, sports, and computers. The kids go on a trip every day and the camp communicates through text (sends pictures regularly)   Many campers become junior counselors as they get older.  
2) Bergen Beach Sports and Recreation Camp at St.Bernard's Summer 2020 

3) Aviator Summer Camp – at Floyd Bennett Field For children ages 3-14 years old. Campers go from 9-5 pm and do five activities each day(swimming, drama, music, photography, arts and crafts). Extended day available for the early morning and evening. $3295 for the entire Summer. Bus available for $695.   
There is also an Dutch Total Soccer All Girls Soccer Camp at Aviator this Summer – See here

4) Jamaica Bay Riding Academy – July to August 
Sessions are as follows:
Session 1: 8:30 am – 5:30 pm
Session 2: 10:00 am – 3:00 pm
Session 3: 8:30 am – 3:00 pm
Session 4: 10:00 am – 5:30 pm
Extended hours can be arranged. Daily lunches are included for all sessions. Riders must complete at least 5 lessons prior to enrollment. Full summer price discounts can be arranged.

Windsor Terrace Summer Camps:
1) Brooklyn Youth Music Project – Music Camp
2) Kings Bay Y –   CHILDREN AND PARENTS RAVE ABOUT THIS PLACE! June 27 – August 30th. $3050 for the Summer. $540 week. Ages 2 – teen. The children swim 3 or 4 days a week and have soccer, fencing, dance, archery and a gala. 
They have a basketball camp and a dual language camp in addition to their regular Summer camp.

2019 Prices:


Plus there is door-to-door busing from Bay Ridge to the camp. Children are picked up around 7:30 am and are dropped off around 4:00 pm. Camp counselors use an app to communicate time with parents.

Basketball Camp at Kings Bay  Y  is
basketball camp for 6-14 year olds.
Park Slope Summer Camps:
1) Camp Half Blood  for children 7-12 (or Camp Jupiter for 11 – 14 year olds) – held at Prospect Park for 10 weekly sessions in the  Summer.   $550 a week.  ***This was one of the first camps that sold out last Summer so register early. ***   The 2019 Camp season begins on June 17th and the last session ends on Friday, August 23rd. If severe weather arises, the camp is moved to Middle School 51 for the day, but activities remain unchanged.  At age 15, students can be counselors in training.
2) Prospect Park Zoo Summer Camp – 450 Flatbush Avenue – PreK – Grade 8 – $450 a week – Science camp to work with animals and wildlife. Bring your own lunch and snacks.  They have camp weeks from June to August 30th.
* NO SUMMER CAMP in 2019 at Camp Olympia because the pool is being worked on this year
3) Kids in the Game  held at St. Savior School yard from July 1 – August 16, 2019.  $500 a week ($450 a week early bird)  See pics on Bklyner

4) Jugamos a Cantar Spanish Language Camp – From July 8 to August 30, 2019, children ages 2-7 can learn Spanish in this Park Slope camp – several locations. See costs – prices vary depending on age and how many weeks you need. Before care and after care available for late hours. Your child can attend one week or many weeks 
6) YMCA Camp July 1 to August 23, 2019. Programs are offered at Park Slope Armory YMCA location at 361 15th Street and P.S.10 located at 511 7th Avenue for ages 4-14  212-912-2587  jrosa@ymcanyc.org


7) Painted Pot Summer Art Camp in Cobble Hill or Park Slope – Children ages 6-14 ($130 a day)  Monday to Friday 9 am – 4 pm (there is early dropoff at 8:30 am for $10 more a day ($40 a week) and late pickup up to 6pm for $25 a day or $100 a week). Create with clay, paint pottery and canvas. $625 a week for the Summer of 2018. You have to bring your own lunch.
Caroll Gardens/Downtown Brooklyn Summer Camps:
1) Jete Summer Dance Camp – $300 a week – 274 3rd Avenue. This camp is for children age 6 and up who love to dance.  8:45 am – 3 :00 pm.   There is also a dance intensive for children 8 and up.
2) Brooklyn Music Factory 600 Degraw St. Brooklyn, NY  Ages 4-13. Full Day Camp Price: $695
**Music plus climbing at Brooklyn Boulder
Sample Schedule
9AM DROP OFF& FREE PLAY
9:15AM ALL CAMP DRUM CIRCLE
9:30AM REHEARSAL #1
11:15AM SNACKTIME
11:45AM OUTDOOR TIME & LUNCH!
12:00 ROCK CLIMB -BROOKLYN BOULDERS
1:15PM SNACK & DRUM CIRCLE
1:45PM REHEARSAL #2
2:30PM SNACK
2:45PM REHEARSAL #3
3:30PM PICK UP
Early Drop Off/Extended Day Pick Up
We will be offering a COMBO Early-bird drop-off/Late pickup option. Drop off Monday-Friday as early as 8AM and late pick-up (Monday- Thursday, with lots of fun extended day activities!) until 6PM. Cost: $100 for the week.
3) Brooklyn AYSO Soccer Camp meets for 2 weeks in July and is reasonably priced – weird hours though- starts very early and ends mid-afternoon. See Facebook page.
4) Summer Theater Workshop by White Bird Productions – 138 South Oxford Brooklyn 11217  Acting workshop- different theme each week. Also art and design workshop.  For Grades K-7.  June to the beginning of August. $445 per week if you register early – $490 a week if you are late registering.
5) Steve and Kates Camp – Camp activities include: sports, film, fashion, coding, music, game shows, canival, bread making and trips. You can purchase one day of camp for $120 or the whole Summer from June 24 – August 23, 2019 which costs $3000    7:30 am – 6 pm at the International School of Brooklyn (477 Court Street – nutritious lunch and snacks included (some child chefs come as well)  
6) Brooklyn Ballet – 160 Schermerhorn Street. Ballet, jazz, tumbling & arts and crafts. Bring your own lunch and snacks. Preballet for ages 3-4 $400  or Ballet for ages 5-7 for $500 a session 8:30 am – 3:00 pm. 
10% Early Bird Registration (by April 1st)*
Early Bird Registration will begin March 5th

7) Packer Collegiate Summer Camp – June 17 – July 26, 2019. For children 4-12 years old. Swimming, theater, dance, zany science, soccer, Lego-building, a variety of sports woodworking and cooking. 

8) Brooklyn Friends – June 19 – July 26, 2019.  For children ages 3-7. Swimming, sports, science, drama and trips. 8:30 – 3:00 pm – no early dropoff, but there is extended care until 6 pm for $10 an hour. 3 sessions about $1000 for two weeks. Brooklyn Friends is a Quaker school located at 375 Pearl Street in Downtown Brooklyn. 
9) Textile Arts Center – 505 Carroll Street Brooklyn. Camp for children 5-13 years old. 9:00 am – 3:00 pm for small children – until 5:00 pm for older children.  $525 a week

10)  Brooklyn Boulder    Camp is from July 1 – August 30th.  for children ages 5-12.  Monday to Friday 9:00 am – 3:30 pm. Early dropoff at 8:30 and late pickup to 6:00 pm is available.

Breezy
1) Silver Gull Day Camp July 1st – August 23, 2019. Monday through Friday 12:30 P.M. to 4:30 P.M.  for children 3-12 years of age. Available to cabana,locker or cabin members.  The small cabana is $875 – $930.
Staten Island
1) JCC Camp – (Jewish Community Center) – Manor Road   2019 Prices here
Hugs,
marlene
Topics: Bay Ridge, Brooklyn | No Comments »
Comments