April 12, 2016

My friend has a new baby and is bored. I told her that there are plenty of Mommy and Me classes to go to with her son in Brooklyn, but she couldn't find many. I knew of a few so it was time to make a list of classes for mothers and babies in Bay Ridge – some are pay and some are free. Julia I put it in order of days of the week for ya!
*If you have a Mommy and Me Class in the area,  leave me a comment and I will add it.
Monday
St Bernadette's  has a Moms and Tots class 9 AM – 12 PM Mon & Fri. (see info here) Sept. to June – $1000 for 54 sessions
Miss Karen's Preschool Group at Play Days and Parties in Bay Ridge – see schedule
Union Church Playgroup – Mixed Age playgroup 9:3o -11:30 am  Info Here (10 sessions for $185)
Parent Child Activities & Classes  at The Little Gym of Bay Ridge-Bensonhurst – 10 months old and up
Music Together has classes at several locations  – see here to register for 10 week program (free demo class)
Beyond Dance has a Mommy and Me Class from 4-5 pm on Mondays.  Beyond Dance is at 8717 3rd Avenue

If you have a sitter, there is yoga in the evening at the Bay Ridge Jewish Center from 6:15 – 7:30 pm  $15 a class (or you can get a package)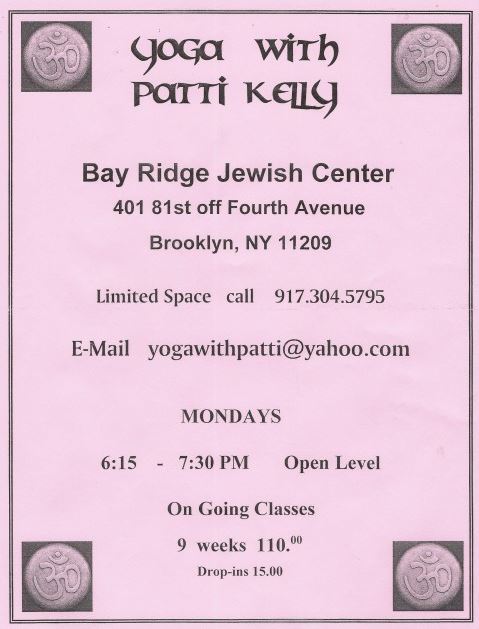 Tuesday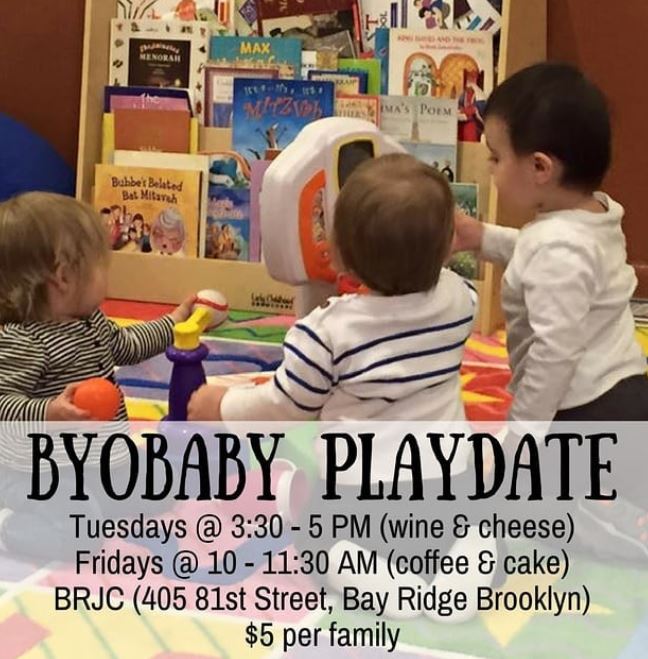 *The Brooklyn Botanic Garden is free on Tuesdays. *The Ed Center at Brooklyn Bridge Park is open and is free – good for 3 -5 year olds.
Wednesday
Fort Hamilton Library Babies and Books Program – FREE -(info here) 10:30 AM for babies/11:30 AM for Toddlers – Coffee and playing at The Coop follows.
Shanti Baby Yoga  11:30 – 12:00 pm (see here)  8717 3rd Avenue  

Phone:

646-823-7261   Yelp Reviews

Thursday
Mommy and Me Class on Thursdays at 10:30am – 12:3 pm at Play Days and Parties with Miss Darlene
The Art Room – Mommy and Me 10 AM – 11 am – 2 years old and up. See here
Mommy and Me Italian Language Classes 6 months and up at Little Language Studio in Dyker Heights.
Mommy and Me at Play Days and Parties -9 AM – 6632 – 3rd Avenue – Work while the children play — you must be on site.    info
Union Church Playgroup – Mixed Age playgroup 12:00 -2:00  Info Here (10 sessions for $185)
Babies and Books at the Dyker Library from 1:15 – 1:45 pm
Parent Child Activities & Classes  at The Little Gym of Bay Ridge-Bensonhurst – 4 months – 10 months  old babies
Music Together has classes at several locations – see here to register for 10 week program (free demo class)
The Brooklyn Children's Museum is free from 2 pm – 6 pm (info here)  145 Brooklyn Avenue, 718-735-4400
Toddler Time at Sunset Park Recreation Center (4200-7th Avenue) 9-11 am – free with membership – $150 for a year or $75 for 6 months
* If you have someone to watch the kids, there is coloring for stress relief for adults in the evening at the library until the end of May. (see here)
Friday
St Bernadette offers moms and tots from 9 AM – 12 PM (Monday too) – (see info here) September to June – $1000 for 54 sessions
The Art Room – Mommy and Me – 10 AM – 2 years old and up  See here
The Bay Ridge Jewish Center has Mommy and Me with cheese and wine on Fridays from 10:00 am – 11:30 am (not only for Jewish Moms). They call it BYOBaby (Bring Your Own Baby) – cute!  Children 3 and up $5.00 per family. – See Facebook and also see here

 Sunset Park 41st Street and 7th Avenue – Sunset Park Forest School 9:30 am – 10:30 am

Saturday
** If you have a sitter, free yoga at 10:15 am at the Fort Hamilton Library (see here)
Sunday
ALSO
Jugamos has singalongs in Spanish and English in Park Slope – dropins $10 – $2 extra for a sibling – see info
Visitation Academy  used to have a Mommy and Me class but I didn't see any info about it online, but in December, I saw this:


Good Shepherd Playschool Co-op 

Hugs,
marlene
Topics: Bay Ridge | No Comments »
Comments