February 16, 2018

Stations of the Cross
Saint Andrew's – Every Friday morning at 9:30 am, the Stations of the Cross are done at St. Andrew the Apostle Church.   
Saint Anselm – Fridays at 11:30 am and 7:30 pm
Saint Pat's – Fridays after the 12:00 mass and at 7:00 pm (Spanish at 7:30 pm)
Saint Ephrem – 8:45 am and 7:00 pm. The children will be doing the stations on March 15th at 1:30 pm.

Prayer and Reflection
Saint Pat's Church

o

n Thursdays – March 8, 15 and 22 

7:30 pm to 8:30 pm
Saint Ephrem – March 11th at 1:15 pm.

Saint Pat's Rectory Meeting Room on Saturdays February 17, 24;  March 3, 10 and 17th   3:00 – 4:00 pm 
 Wednesday, March 14th   Lenten Soup Supper at St. Ephrem School  at 6:00 p.m  at  924 74th Street. There will be a free-will offering.  Please R.S.V.P. by Friday, March 9,  St. Ephrem Rectory at 718-833-1010.

March 25th – Palm Sunday
March 26th – All churches are having Reconciliation Monday from 3 – 9 pm.


Holy Thursday, March 29th – Need Volunteers at St. Ephrem's Church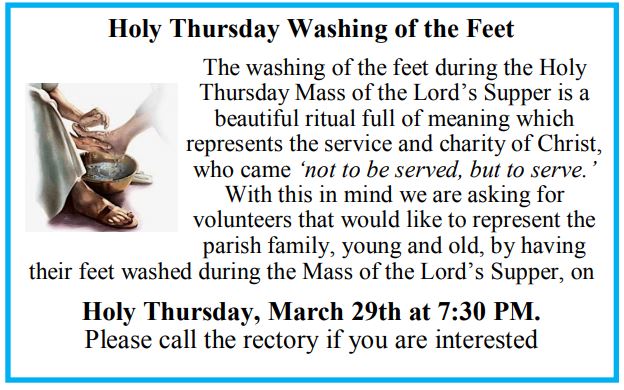 Good Friday, March 30th

Saint Ephrem needs volunteers for the stations of the cross.
Way of the Cross over the Brooklyn Bridge

Holy Saturday in Bay Ridge
St. Patrick's Church is blessing Easter Baskets at 11:00 am.
Call to Action


Non-Meat Meals in Bay Ridge
Tanoreen

Vegetable empanadas from the Family Store

Positano's Antipasto – caldo shrimp, clams, eggplant and mozzarella carrozza

Schnitzel Haus – 7319 – 5th Avenue in Bay Ridge

New Corners – Scrungilli over linguine


Lox and bagels
Other ideas:  Pizza, Eggplant, Shrimp and pasta, Tuna
Fried Calamari from Roccos


Salads from the Family Store
Hugs,
marlene
Topics: Bay Ridge | No Comments »
Comments