February 16, 2018

Stations of the Cross
Saint Andrew's – Every Friday morning at 9:30 am, the Stations of the Cross are done at St. Andrew the Apostle Church.   
Saint Anselm – Fridays at 11:30 am and 7:30 pm
Saint Pat's – Fridays after the 12:00 mass and at 7:00 pm (Spanish at 7:30 pm)
Saint Ephrem – 8:45 am and 7:00 pm. The children will be doing the stations on March 15th at 1:30 pm.

Prayer and Reflection
Saint Pat's Church

o

n Thursdays – March 8, 15 and 22 

7:30 pm to 8:30 pm
Saint Ephrem – March 11th at 1:15 pm.

Saint Pat's Rectory Meeting Room on Saturdays February 17, 24;  March 3, 10 and 17th   3:00 – 4:00 pm 


Wednesday, March 14th   Lenten Soup Supper at St. Ephrem School  at 6:00 p.m  at  924 74th Street
Please join the parishes of the Brooklyn 9 Deanery for the Lenten Soup Supper. There will be a free-will offering.
Please R.S.V.P. by Friday, March 9,  St. Ephrem Rectory at 718-833-1010.
The Deanery 9 parishes are:  St. Andrew the Apostle, St. Anselm, St. Bernadette, St. Ephrem, St. Patrick, Our Lady of Angels and Our Lady of Guadalupe. 
March 26th – All churches are having Reconciliation Monday from 3 – 9 pm.

March 29th – Need Volunteers at St. Ephrem's Church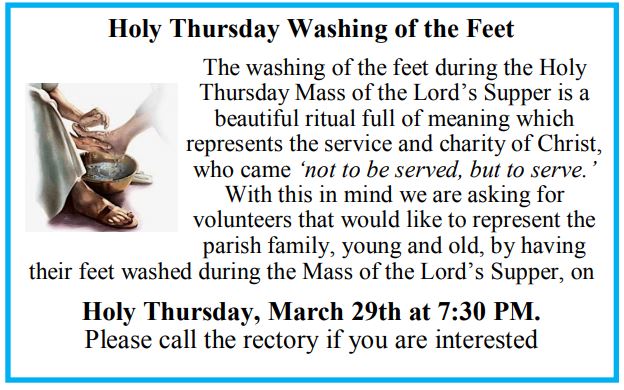 Call to Action

Non-Meat Meals in Bay Ridge
Tanoreen

Vegetable empanadas from the Family Store

Positano's Antipasto – caldo shrimp, clams, eggplant and mozzarella carrozza

Schnitzel Haus – 7319 – 5th Avenue in Bay Ridge

New Corners – Scrungilli over linguine

Pizza, Eggplant, Shrimp and pasta, Tuna
Hugs,
marlene
Topics: Bay Ridge | No Comments »
Comments