December 1, 2012
I haven't been in the best mood this week because I feel like the mortgage processors at Chase is taking advantage of us because she doesn't want to work. On Monday it will be ten weeks since we started the paperwork on this refinance. I understand things take time, but the Chase mortgage processor has let our paperwork just sit on her desk instead of communicating with the other departments. Calls and e-mails weren't returned for four days. In 2012 when JP Morgan Chase must have supplied employees with communication devices, delays in communication should not be an issue.
These employees at Chase are not supervised by people in their building so it is difficult to find out their supervisor. I've asked several employees for the name of their supervisor and had more than one ignore my request, so I've had to ask a second time. When I asked the two supervisors of the mortgage processors to step in and other management to help me, they send generic messages or will speak with a patronizing tone on the phone. No one has said, "We will take care of this and have it done by tomorrow." Their laziness is costing us money because we are still paying the mortgage at the old rate when we were approved for the new rate in October. Our paperwork was done right away and submitted by the beginning of October. Many employees just have a job at Chase because they can't do anything else and need to something for work. When people don't do what they love, customers suffer. A refinance shouldn't take longer than a mortgage, especially when the customer's paperwork was done in the beginning of October.
As a side note, I have told my friends who don't like to work to apply for a job at Chase because the supervisors don't work in the same building and I haven't found anyone who is accountable to their boss yet.
————————————————–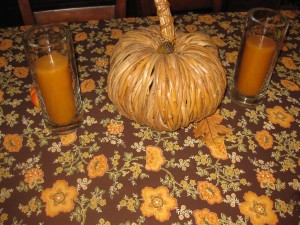 So it's time to Haul out the Holly and put up some Christmas items. I wish I was feeling a bit more spirited because we're having the cousins over today. In the next hour, I'm going to put on some Christmas music, light some Christmas candles and get Lee to grab the decorations.
Hugs,
marlene
Topics: Uncategorized | No Comments »
Comments