July 10, 2019

Something Greek – 7616 3rd Avenue – see menu

Blue Agave – 7215 3rd Avenue – Mexican food – menu.

Good brunch –

menu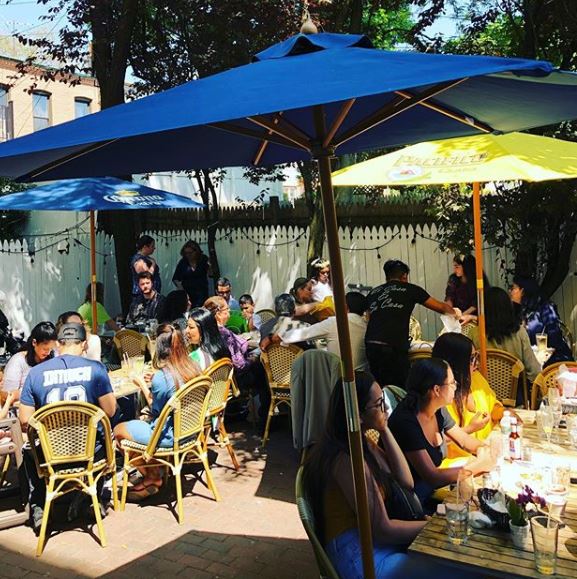 Brooklyn Beet Co. 7205 3rd Avenue. Known for the korzo burger (see here)  menu 

  Brunch

menu

Brooklyn Firefly 7003 3rd Ave – has seating/beer garden on the side. 

 Menu

Coszcal Allegro 6824 3rd Avenue (used to be Panchos).

Menu

Gourmet Fit 6819 3rd Avenue  Menu   Brunch menu

The Hom Store 8810 – 3rd Avenue – $13.95 brunch menu.  They have green eggs and ham here. I have never seen anyone order it but every dish they make looks amazing. They have brunch Wednesday to Sunday.

Pasticceria Rocco's 9402 – 4th Avenue

Cebu 8801 3rd Avenue- has seating in the front and side (no backyard, but its a good brunch spot.) 

Menu

Lombardo's – 279 71st Street – this is a new pizza place with a little outdoor seating in the front (it's cute and the place is worth a mention because it's off 3rd Avenue and their food is very good)

Elia Restaurant – Greek food 
Zio Toto 8407 3rd Avenue
Bars with Backyards
Windy City Ale House 7915 3rd Avenue – great place!

Lonestar 8703 5th Avenue 
The Harp Bar 7710 3rd Avenue

Skinflints
Lockyard 9221 – 5th Avenue – see here 

*Kid-friendly 
Outdoor Coffee Shops
Coffee Rx 6903 – 3rd Avenue – they make cute coffees here – cappuccino with art 

Cafe Cafe 8401 3rd Avenue (coffee shop) has seating in the front. 

Panentico – 9124 3rd Avenue (breakfast or lunch spot) menu

*This list was made fast for a good friend whose kids are at camp and she is having a date night with her husband. 
Remember Friday night is the 3rd Avenue Festival so there will be plenty of outdoor cafes on Third Avenue.
Outside of Bay Ridge
Dyker Heights
Blue Agave 7201 16th Avenue – Mexican food – Since it is in a strange spot, it's good for us. When Bay Ridge is too crowded, it's easy to park around here.

Panino Rustico – 8222 17th Avenue 
Bensonhurst
Spumoni Gardens 2725 86th Street – pizza
Coney Island Boardwalk

– Tom's, Ruby's, etc.
Sunset Park
Maria's Mexican Restaurant -886 5th Avenue – backyard – small – kitchy – comfortable like you are in your friend's backyard
Park Slope
Song – 295 5th Avenue – Thai Food 
Gowanas
Whole Foods Grocery Store has a rooftop cafe 214 Third Street – as soon as there is a sign of Spring, we go here. It's nothing fancy but great when you need sun.
Red Hook
Brooklyn Crab 24 Reed Street – go early or this place is packed. 
Prospect Heights
Zaytoon's 594 Vanderbilt Avenue – Middle Eastern Restaurant – nice backyard
Fort Greene – Navy Yard
Rooftop Reds
– brunch on a Saturday morning…Lee had my birthday here! So nice.
Bed Stuy
Saraghina 435 Halsey Street
DUMBO
Forinio -Pier 6 Brooklyn Bridge Park – nice roof to meetup with friends
River Cafe – 1 Water Street 
Williamsburg
Rabbithole – 352 Bedford Avenue – Good 4 brunch 
MyMoon – 184 N 10th Street   
Berry Park 4 Berry Street – rooftop
Hugs,
marlene
Topics: Bay Ridge | No Comments »
Comments